The organizing committee of the 2020 Tokyo Games announced the routes for the Olympic individual time trial and Paralympic road race on Wednesday, finalizing the courses for all cycling events taking place in two years' time.
The courses for the Olympic time trial and Paralympic races will start and end at Fuji Speedway motor racing circuit near the iconic Mt. Fuji.
In the individual time trial race, male athletes will make two laps around the 22.1-kilometer circuit, while their female counterparts will go around the course once.
The course will have "many gradients and downhill sections and is likely to provide some spectacular competition between the world's best athletes in these races," according to the organizers.
The number of laps that Paralympic athletes will make around the course in Shizuoka Prefecture, central Japan, will differ depending on class.
The organizers announced the courses for the road racing events in August, saying the route that starts in suburban western Tokyo and ends at Fuji Speedway is "extremely difficult.
2020年東京オリンピック・パラリンピックで、自転車競技のロード・タイムトライアルなどのコースが発表されました。富士山を見ながら競い合うコース設定になりました。
May 27
After a fun-filled weekend of golf, sumo, cheeseburgers and charcoal-grilled meat and vegetables, U.S. President Donald Trump and Japanese Prime Minister Shinzo Abe are set to hold formal talks Monday, with trade and tensions with North Korea topping the agenda.
(Japan Today)
May 27
Scorching heat hit Japan on Sunday. The temperature shot up to over 39 degrees Celsius in the northernmost prefecture of Hokkaido. That's a national record high for May.
(NHK)
May 27
Three people remained missing as of Sunday evening after two Japanese cargo ships collided during the early morning hours off the coast of Chiba Prefecture, the Japan Coast Guard said.
(Japan Times)
May 26
Japan's top trade negotiator with the United States has said both sides continue to differ on negotiations for a trade deal, adding that they need to work further to narrow the gap.
(NHK)
May 26
In sumo, rank-and-file wrestler Asanoyama has clinched his first tournament title.
(NHK)
May 25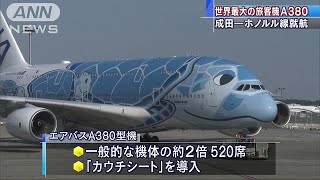 All Nippon Airways debuted flights of a double-decker Airbus A380 from Narita Airport north of Tokyo, bound for Hawaii on Friday.
(NHK)
May 24
The government will no longer use the term "lifelong singles" as a label for people who have not married by age 50, deeming the term inaccurate as Japanese are increasingly tying the knot later in life, officials said Thursday.
(Japan Today)
May 24
Many parts of Japan saw the mercury top 30 degrees Celsius on Thursday. Weather officials are warning of unseasonal high temperatures over the weekend.
(NHK)
May 24
Police in Japan are stepping up security for an upcoming visit by US President Donald Trump.
(NHK)
May 24
Japan's new supercomputer Fugaku is set to begin operations around 2021 with the country aiming to regain the title of building the world's fastest computer, replacing its current supercomputer K, government-backed research institute Riken said Thursday.
(Japan Times)
---