The family of a pop group member promoting agriculture in western Japan who hanged herself in March sued officials of her talent agency for damages on Friday, claiming their harassment and overwork caused her death.
In the suit filed with the Matsuyama District Court, the family of Honoka Omoto, 16, who was a member of Ehime Prefecture-based idol group Enoha Girls, is seeking a combined 92 million yen from the president and three others at the agency.
"We want the company to speak about (what happened) as it is, without bending (the truth)," said Omoto's mother Yukie, 42, at a press conference.
Takahiro Sasaki, the president of the agency H Project, told reporters he feels responsible for being unable to save Omoto but added, "Some parts of the claims by the bereaved family are not true."
Omoto joined the agency in July 2015 and had worked at events for more than 10 hours a day, including early and late hours, since around last year, according to the family. Enoha Girls are engaged in farming in addition to show business work.
After finding it difficult to balance her work and student life, the family said Omoto conveyed her intention to leave the idol group to the company, but was met with abusive responses, including a smartphone app message that said, "Seriously, I will hit you if you mention such nonsense again."
今年3月、アイドルをしていた16歳の少女が自ら命を絶ちました。家族は、なぜ彼女が亡くなってしまったのか、そこに事務所のパワハラがあったのではないかと損害賠償を求め、訴訟を起こすことを決めました。 明るい笑顔で人々に元気を与えるはずのアイドルが、自ら死を選びました。
May 27
After a fun-filled weekend of golf, sumo, cheeseburgers and charcoal-grilled meat and vegetables, U.S. President Donald Trump and Japanese Prime Minister Shinzo Abe are set to hold formal talks Monday, with trade and tensions with North Korea topping the agenda.
(Japan Today)
May 27
Scorching heat hit Japan on Sunday. The temperature shot up to over 39 degrees Celsius in the northernmost prefecture of Hokkaido. That's a national record high for May.
(NHK)
May 27
Three people remained missing as of Sunday evening after two Japanese cargo ships collided during the early morning hours off the coast of Chiba Prefecture, the Japan Coast Guard said.
(Japan Times)
May 26
Japan's top trade negotiator with the United States has said both sides continue to differ on negotiations for a trade deal, adding that they need to work further to narrow the gap.
(NHK)
May 26
In sumo, rank-and-file wrestler Asanoyama has clinched his first tournament title.
(NHK)
May 25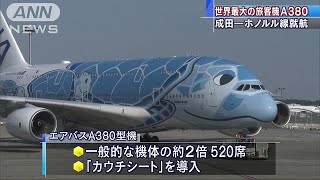 All Nippon Airways debuted flights of a double-decker Airbus A380 from Narita Airport north of Tokyo, bound for Hawaii on Friday.
(NHK)
May 24
The government will no longer use the term "lifelong singles" as a label for people who have not married by age 50, deeming the term inaccurate as Japanese are increasingly tying the knot later in life, officials said Thursday.
(Japan Today)
May 24
Many parts of Japan saw the mercury top 30 degrees Celsius on Thursday. Weather officials are warning of unseasonal high temperatures over the weekend.
(NHK)
May 24
Police in Japan are stepping up security for an upcoming visit by US President Donald Trump.
(NHK)
May 24
Japan's new supercomputer Fugaku is set to begin operations around 2021 with the country aiming to regain the title of building the world's fastest computer, replacing its current supercomputer K, government-backed research institute Riken said Thursday.
(Japan Times)
---