The government will announce an ambitious plan aimed at cutting disposable plastic waste by 25 percent over the next decade while promoting environmentally friendly bioplastics made from plants, sources said Saturday.
By setting the goal, Tokyo aims to display its commitment to tackling environmental issues ahead of the Group of 20 summit in Osaka next June.
Japan produces the largest amount of plastic waste per capita after the United States and has lagged behind other countries in curbing the use of plastics.
The target will likely be added to a draft strategy on plastic waste reduction being prepared by the Environment Ministry. It will be submitted to a ministry panel on Friday and the strategy is expected to be compiled by the end of the year.
The use of bioplastic materials will be increased to around 2 million tons by the target year of 2030 from 70,000 tons in fiscal 2013, according to the sources.
Plastic bottles and packaging, which make up a large portion of plastic waste, totaled 4.07 million tons in 2016, according to the ministry. Overall plastic waste data including for straws and stirrers were not available.
Businesses voiced concerns about negative economic repercussions and the feasibility of the target.
It costs less than ¥1 to produce a plastic straw but around ¥13 for a paper straw, according to the Tokyo Metropolitan Government. Bioplastics are also more expensive than conventional plastics.
On the goal of boosting bioplastics by nearly 30 times by fiscal 2030, a government official said, "It is very ambitious and would be really tough to achieve."
Among other goals, the government aims to raise the proportion of recycled and reused plastic to 60 percent of all household and industrial waste. In fiscal 2016, the figure stood at 53 percent for household waste.
The Environment Ministry also plans to set targets for the reuse of all plastics including electronic appliances and automobile parts.
Mar 23
A key part of the business model for convenience stores is their round-the-clock service. But a shortage of staffers is prompting some operators to consider shrinking their business hours.
(NHK)
Mar 23
A member of a sister group of the popular all-girl band AKB48 on Friday criticized the outcome of a probe into an assault against her as "lies," as the group's management company revealed the result.
(Japan Today)
Mar 23
The number of foreign residents in Japan had risen 6.6 percent at the end of 2018 from a year earlier, to reach a record high of some 2.73 million, Justice Ministry data showed on Friday.
(Japan Times)
Mar 22
The cherry blossom season officially arrived in Tokyo on Thursday after officials from the Meteorological Agency confirmed that more than five blossoms had opened on a Somei-Yoshino cherry tree at Yasukuni Shrine in Chiyoda Ward.
(Japan Times)
Mar 22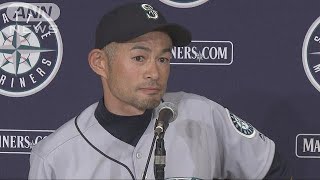 Japanese baseball legend Ichiro Suzuki of the US Major Leagues' Seattle Mariners has announced his retirement.
(NHK)
Mar 21
Cherry trees came into bloom Wednesday in the southwestern prefecture of Nagasaki, the first blooming of the "Somei Yoshino" variety in Japan this spring, according to the Japan Meteorological Agency.
(Japan Today)
Mar 21
Police on Wednesday arrested an American man on suspicion of fatally stabbing his Japanese wife at a court where they were to settle a divorce.
(Japan Today)
Mar 21
The unmanned space probe Hayabusa2 has detected small amounts of minerals containing water on the surface of the asteroid Ryugu, a Japanese research team has said.
(Japan Times)
Mar 21
Police on Thursday arrested a 14-year-old junior high school boy on suspicion of attempted murder after he stabbed a classmate at their school in Saijo, Ehime Prefecture.
(Japan Today)
Mar 20
The head of the Japanese Olympic Committee has announced he will step down when his term expires in June.
(NHK)
---