More than 1,100 rubella cases have been reported this year in Japan, raising concern about serious health impacts on unborn babies who could be infected with the disease by their mothers during pregnancy, a national institute said Tuesday.
The 1,103 cases so far in 2018 represent a nearly 12-fold jump from the entire previous year and also an increase of 135 in the first week of October from the previous week, according to the National Institute of Infectious Diseases.
Mothers with children born with congenital rubella syndrome in the past are calling on people to get vaccinations as infection in the early stages of pregnancy can cause birth defects such as hearing impairments, cataracts and heart disorders.
"We need to keep monitoring the situation carefully to see if it will develop into a major epidemic," health minister Takumi Nemoto said at a news conference. He also said the ministry will urge women who want to get pregnant to undergo a rubella antibody test.
In a 2012-2013 rubella epidemic in Japan, which saw more than 16,000 rubella patients, 45 babies developed congenital rubella syndrome and 11 of them died.
Kayo Kani, a 64-year-old co-head of a group working to stop rubella infections, warned that the latest epidemic could also result in the birth of babies with the syndrome, although no cases have been reported so far this year.
Seventeen years ago, Kani lost her daughter who was born with heart problems due to the syndrome. Having learned that women of her daughter's generation are now at risk of giving birth to children with similar problems, Kani said, "I feel like my daughter is telling me to eliminate rubella infections."
To prevent serious health repercussions arising from the contagious disease, which is often transmitted through coughing and sneezing, vaccinating people around pregnant women is important, according to the institute.
今年の風疹患者の報告数が全国で1100人を超えたことが分かりました。厚生労働省は全国的な大流行の恐れがあるとして警戒を強めています。 国立感染症研究所によりますと、7日までに報告された今年の風疹の患者数は1103人になりました。
Mar 23
A key part of the business model for convenience stores is their round-the-clock service. But a shortage of staffers is prompting some operators to consider shrinking their business hours.
(NHK)
Mar 23
A member of a sister group of the popular all-girl band AKB48 on Friday criticized the outcome of a probe into an assault against her as "lies," as the group's management company revealed the result.
(Japan Today)
Mar 23
The number of foreign residents in Japan had risen 6.6 percent at the end of 2018 from a year earlier, to reach a record high of some 2.73 million, Justice Ministry data showed on Friday.
(Japan Times)
Mar 22
The cherry blossom season officially arrived in Tokyo on Thursday after officials from the Meteorological Agency confirmed that more than five blossoms had opened on a Somei-Yoshino cherry tree at Yasukuni Shrine in Chiyoda Ward.
(Japan Times)
Mar 22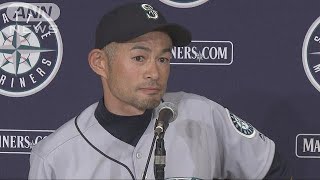 Japanese baseball legend Ichiro Suzuki of the US Major Leagues' Seattle Mariners has announced his retirement.
(NHK)
Mar 21
Cherry trees came into bloom Wednesday in the southwestern prefecture of Nagasaki, the first blooming of the "Somei Yoshino" variety in Japan this spring, according to the Japan Meteorological Agency.
(Japan Today)
Mar 21
Police on Wednesday arrested an American man on suspicion of fatally stabbing his Japanese wife at a court where they were to settle a divorce.
(Japan Today)
Mar 21
The unmanned space probe Hayabusa2 has detected small amounts of minerals containing water on the surface of the asteroid Ryugu, a Japanese research team has said.
(Japan Times)
Mar 21
Police on Thursday arrested a 14-year-old junior high school boy on suspicion of attempted murder after he stabbed a classmate at their school in Saijo, Ehime Prefecture.
(Japan Today)
Mar 20
The head of the Japanese Olympic Committee has announced he will step down when his term expires in June.
(NHK)
---