India and Japan on Monday inked a $75 billion bilateral currency swap agreement which should bring greater stability to foreign exchange and capital markets in Asia's third largest economy.
The pact, which was concluded during Prime Minister Narendra Modi's visit to Japan, is aimed at enhancing financial and economic cooperation between the two countries, according to a jointly issued statement.
Japan and India had a currency swap agreement of up to $50 billion that had expired. The Indian rupee has tumbled 15% against the dollar since January amid the U.S. Federal Reserve's interest rate hikes. The new swap deal will guarantee a buyer for the rupee that will help to stem a fall in value in case of a currency crisis.
"The importance of [the] swap agreement is that India can borrow U.S. dollars from Japan and give it Indian rupees of the borrowed amount to stabilize its currency," said Shamshad Ahmad Khan, a visiting associate fellow at the Institute of Chinese Studies in New Delhi. "This is very important considering the timing when [the] Indian rupee is depreciating."
During their talks on Sunday and Monday, Modi and his counterpart Shinzo Abe discussed a range of bilateral and international issues, including further cooperation in the Indo-Pacific region.
"Prime Minster Abe underscored the basic importance of India-Japan relationship for the regional order and is determined to advancingthe 'new era in India-Japan relations' so as to further cooperate for peace, stability and prosperity of [the] Indo-Pacific [region]," the statement said.
Modi said the leaders had agreed on a "two-plus-two" dialogue between their foreign ministers and defense ministers, with the aim of working toward encouraging world peace and stability. Until now, the two countries have been holding the "two-plus-two" at vice-ministerial level.
Khan, an expert in India-Japan relations, said Tokyo had been keen for this mechanism to be upgraded to the ministerial level but New Delhi "deliberately kept it at the [vice-ministerial level] fearing backlash from China." He added: "[But] they have upgraded it to ministers' level as the strategy requires greater synergy between the two countries' defense and foreign ministries."
Modi also pointed out that Japanese investors, during his visit, have committed $2.5 billion to India, which would create employment for 30,000 people. "We will strengthen our partnership in every sphere, including digital, cyberspace, health, defense, oceans and space."
Dec 14
A Japanese government panel says a run of growth that began in December 2012 has now become the second-longest period of expansion in the post-war era. But that verdict comes as Japan struggles with sluggish wage growth and a chronic labor shortage.
(NHK)
Dec 14
The Japanese government plans to take measures to make regional labor markets accessible to foreign blue-collar workers to avoid them concentrating in large cities such as Tokyo when the country starts accepting them under the new visa system next year, the government's top spokesman said Thursday.
(Japan Today)
Dec 12
As the global shortage of skilled information technology experts hits Japan hard, companies are scrambling to lure and keep top talent with hefty annual pay packages.
(Nikkei)
Dec 11
Winter bonuses at Japanese companies averaged an all-time high of 834,391 yen ($7,400) this year, according to a Nikkei survey released Monday, notching a sixth straight year of growth on strong corporate earnings.
(Nikkei)
Nov 29
Japan's gross domestic product could fall by over 25% in the next 40 years as its population declines, the International Monetary Fund said Wednesday, urging the government to boost productivity through structural reform to mitigate the damage.
(Nikkei)
Nov 23
Japan plans to give a 5 percent reward-point rebate to consumers on some payments made through credit cards and other cashless means as a way of underpinning domestic demand after a planned tax increase next October, government officials said Thursday.
(Japan Today)
Nov 15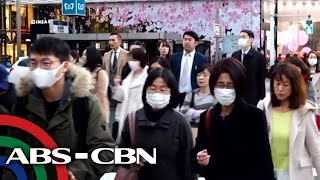 Between 260,000 and 340,000 foreign workers are estimated to flow into Japan in the five years from next April through an envisioned immigration control law revision aimed at dealing with the country's serious labor crunch, government sources said Tuesday.
(Japan Today)
Nov 15
Japan's economy contracted for the first time in 2 quarters. Government officials say a string of natural disasters in the period dented exports and consumer spending.
(NHK)
Nov 14
For the first time in almost three decades the Salt Industry Center of Japan has announced it will raise the price on many of its products by around 15 percent, indicating inflation has finally arrived in at least some industries.
(Japan Times)
Nov 10
On Oct. 15, Prime Minister Shinzo Abe confirmed during an extraordinary Cabinet meeting that the government would raise the consumption tax from 8 to 10 percent next Oct. 1.
(Japan Times)
---