Japan's ruling Liberal Democratic Party's decision-making body has approved a bill to revise the immigration control law to increase the number of foreign workers from next April.
The LDP's General Council completed in-party procedures on Tuesday.
The revised law will create 2 new categories of working residence status.
Workers in the first category, with a certain level of skill, will be granted up to 5 years of residency status.
The second-category workers, with higher skill levels, will be able to reside longer, and can be accompanied by family members.
Residence status for workers is currently limited to highly skilled personnel such as university professors. Starting next April, the status will be expanded to other fields.
The Justice Ministry says skilled foreign workers are sought by 14 industries including nursing, construction, agriculture and services.
During the discussion, LDP lawmakers said the government must determine as soon as possible how many foreign workers each industry needs.
The government says the new status will be granted only in industries with labor shortages, and that the numbers of workers will be decided soon.
外国人労働者の受け入れ拡大を目指す出入国管理法の改正案について、自民党の総務会は3年をめどに見直すという条件で了承しました。 自民党・加藤総務会長:「運用面についても党として責任を持ってこれから対応していくということ。
Mar 23
A key part of the business model for convenience stores is their round-the-clock service. But a shortage of staffers is prompting some operators to consider shrinking their business hours.
(NHK)
Mar 23
A member of a sister group of the popular all-girl band AKB48 on Friday criticized the outcome of a probe into an assault against her as "lies," as the group's management company revealed the result.
(Japan Today)
Mar 23
The number of foreign residents in Japan had risen 6.6 percent at the end of 2018 from a year earlier, to reach a record high of some 2.73 million, Justice Ministry data showed on Friday.
(Japan Times)
Mar 22
The cherry blossom season officially arrived in Tokyo on Thursday after officials from the Meteorological Agency confirmed that more than five blossoms had opened on a Somei-Yoshino cherry tree at Yasukuni Shrine in Chiyoda Ward.
(Japan Times)
Mar 22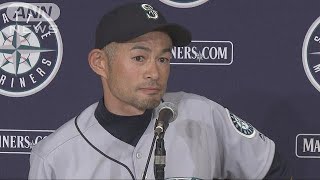 Japanese baseball legend Ichiro Suzuki of the US Major Leagues' Seattle Mariners has announced his retirement.
(NHK)
Mar 21
Cherry trees came into bloom Wednesday in the southwestern prefecture of Nagasaki, the first blooming of the "Somei Yoshino" variety in Japan this spring, according to the Japan Meteorological Agency.
(Japan Today)
Mar 21
Police on Wednesday arrested an American man on suspicion of fatally stabbing his Japanese wife at a court where they were to settle a divorce.
(Japan Today)
Mar 21
The unmanned space probe Hayabusa2 has detected small amounts of minerals containing water on the surface of the asteroid Ryugu, a Japanese research team has said.
(Japan Times)
Mar 21
Police on Thursday arrested a 14-year-old junior high school boy on suspicion of attempted murder after he stabbed a classmate at their school in Saijo, Ehime Prefecture.
(Japan Today)
Mar 20
The head of the Japanese Olympic Committee has announced he will step down when his term expires in June.
(NHK)
---