Job availability in Japan improved to a fresh 44-year high in September as companies sought to ramp up hiring, government data showed Tuesday.
There were 1.64 openings for every job seeker, the highest level since January 1974 and up from 1.63 in August, according to the Ministry of Health, Labor and Welfare.
The nationwide unemployment rate fell to 2.3 percent, down from 2.4 percent the previous month and remaining near the lowest level since the early 1990s, the Ministry of Internal Affairs and Communications said.
The figures show that while companies are seeking to hire more amid solid demand from overseas and at home, Japan's fast-graying population is struggling to yield enough workers.
Koya Miyamae, an economist at SMBC Nikko Securities Inc, said that the job availability ratio is likely to continue to rise as the number of workers dwindles.
"The working-age population is projected to begin shrinking in the mid-2020s, so we are going to see this labor shortage get even worse."
Prime Minister Shinzo Abe has laid out plans to accept more foreign workers in blue-collar jobs starting next April in a bid to prevent the labor crunch from stunting growth in the world's third largest economy.
The unemployment rate for men fell by 0.1 percentage point to 2.4 percent, while that for women remained at 2.3 percent.
The percentage of people in the working ages of between 15 and 64 with jobs rose to 77.3 percent in September, the highest since comparable data became available in 1968.
Jan 16
The workforce in 2040 is projected to be 20 percent smaller than in 2017 due to overall population decline if the economy sees no growth and women and the elderly continue to have difficulty landing jobs, according to government study released Tuesday.
(Japan Times)
Jan 16
Haruhiko Kuroda may rue the day he visited Nagoya. In a Nov. 5 speech to business leaders in the city, the Bank of Japan governor came close to declaring the end of deflation and the dawn of a new era.
(Japan Times)
Jan 06
More Japanese companies went under for lack of personnel last year, reflecting the growing toll of the country's ongoing labor crunch on businesses that fail to secure or keep workers.
(Nikkei)
Jan 04
Bank of Japan policymakers will weigh downgrading their inflation outlook at their meeting later this month to reflect lower crude oil prices, cuts in mobile phone fees and an expansion of free schooling.
(Nikkei)
Dec 30
The 11-member Comprehensive and Progressive Agreement for Trans-Pacific Partnership trade pact entered into force on Sunday, creating a free trade area covering more than a tenth of the global economy.
(Japan Times)
Dec 29
The benchmark Nikkei average snapped a six-year winning streak Friday to end 2018 down more than 12 percent after being pressured by selling following a spike the previous day.
(Japan Times)
Dec 27
Prime Minister Shinzo Abe on Wednesday asked business leaders to raise wages to spur consumption and mitigate the impact of next October's planned sales tax hike, the sixth consecutive year he has requested such an increase.
(Japan Times)
Dec 26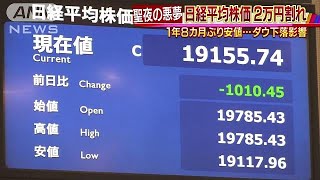 Tokyo's benchmark Nikkei Average plummeted more than 1,000 points. The index finished below the key 20,000-mark for the first time since September 2017.
(NHK)
Dec 20
The benchmark Nikkei average closed below 21,000 for the first time in nearly nine months on the Tokyo Stock Exchange Wednesday amid concerns over a slowdown in the global economy.
(Japan Times)
Dec 20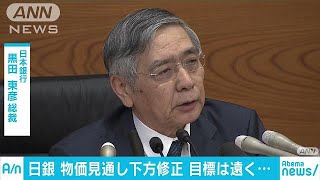 It's been the most radical cash injection in history — nearly ¥400 trillion pumped into Japan's economy over more than five years to slay deflation and kick growth into higher gear.
(Japan Times)
---