Japanese consumer goods companies are increasing investment in factories at home, with an eye to exporting to China and other Asian markets where "Made in Japan" products have cachet.
The trend marks a major shift in strategy for household goods producers, whose focus had always been Japanese customers. It also breaks with the textbook approach to overseas expansion, where establishing local production and securing distribution channels were usually the first steps.
Cosmetics maker Shiseido will spend 140 billion yen ($1.23 billion) by 2022 to expand domestic production capacity -- a 45 billion yen increase from previous plans for spending through 2020.
By 2021, the company intends to build an addition to its Kakegawa plant southwest of Tokyo that makes lipsticks and eye shadows, and will cancel the planned closure of an Osaka factory whose products include skin toner.
Shiseido is on course to log its highest-ever operating profit and sales in 2018, thanks in part to purchases by tourists visiting Japan.
The company plans to open new Japanese plants for the first time in over three decades -- one north of Tokyo in 2019 and the other in an Osaka suburb the following year. But production capacity is still expected to fall short of demand, so it is earmarking additional investments which will lift its global capacity by 80%.
Cosmetics rival Kose's skin care unit Albion plans a 10 billion yen upgrade to a Tokyo area plant by 2020. The brand is popular among Chinese tourists -- an estimated one-fifth of Albion's fiscal 2017 sales of 68 billion yen came from visitors to Japan.
The large-scale investments by Shiseido and Kose show how health and beauty items, a domestic-market-focused sector once thought to have little in common with export-driven industries like automobiles, are emerging as a new face of Made in Japan.
Jan 16
The workforce in 2040 is projected to be 20 percent smaller than in 2017 due to overall population decline if the economy sees no growth and women and the elderly continue to have difficulty landing jobs, according to government study released Tuesday.
(Japan Times)
Jan 16
Haruhiko Kuroda may rue the day he visited Nagoya. In a Nov. 5 speech to business leaders in the city, the Bank of Japan governor came close to declaring the end of deflation and the dawn of a new era.
(Japan Times)
Jan 06
More Japanese companies went under for lack of personnel last year, reflecting the growing toll of the country's ongoing labor crunch on businesses that fail to secure or keep workers.
(Nikkei)
Jan 04
Bank of Japan policymakers will weigh downgrading their inflation outlook at their meeting later this month to reflect lower crude oil prices, cuts in mobile phone fees and an expansion of free schooling.
(Nikkei)
Dec 30
The 11-member Comprehensive and Progressive Agreement for Trans-Pacific Partnership trade pact entered into force on Sunday, creating a free trade area covering more than a tenth of the global economy.
(Japan Times)
Dec 29
The benchmark Nikkei average snapped a six-year winning streak Friday to end 2018 down more than 12 percent after being pressured by selling following a spike the previous day.
(Japan Times)
Dec 27
Prime Minister Shinzo Abe on Wednesday asked business leaders to raise wages to spur consumption and mitigate the impact of next October's planned sales tax hike, the sixth consecutive year he has requested such an increase.
(Japan Times)
Dec 26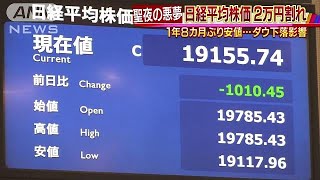 Tokyo's benchmark Nikkei Average plummeted more than 1,000 points. The index finished below the key 20,000-mark for the first time since September 2017.
(NHK)
Dec 20
The benchmark Nikkei average closed below 21,000 for the first time in nearly nine months on the Tokyo Stock Exchange Wednesday amid concerns over a slowdown in the global economy.
(Japan Times)
Dec 20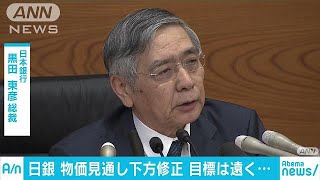 It's been the most radical cash injection in history — nearly ¥400 trillion pumped into Japan's economy over more than five years to slay deflation and kick growth into higher gear.
(Japan Times)
---