Two Japanese Air Self-Defense Force fighter jets came into contact during a training exercise, but the pilots were unharmed.
The ASDF reported that the accident happened shortly before 4 PM Friday about 200 kilometers west of Kyushu.
Both of the F-2 jets involved are based at Tsuiki Air Base in Fukuoka Prefecture, southwestern Japan.
The tailfin of one of them was reportedly damaged. The other sustained damage to its fuel tank and a missile launcher. It was not carrying any missiles.
Both aircraft returned to base around 4:30 PM.
The ASDF added that it had received no reports that any pieces of the jets had fallen off.
The ASDF is interviewing the pilots to determine what caused the accident.
航空自衛隊の戦闘機2機が訓練中に接触した事故で当該機の画像が入ってきました。 2日午後4時ごろ、福岡県の航空自衛隊築城基地に所属するF2戦闘機、2機が九州西方の海上で飛行訓練中に接触しました。
Mar 23
A key part of the business model for convenience stores is their round-the-clock service. But a shortage of staffers is prompting some operators to consider shrinking their business hours.
(NHK)
Mar 23
A member of a sister group of the popular all-girl band AKB48 on Friday criticized the outcome of a probe into an assault against her as "lies," as the group's management company revealed the result.
(Japan Today)
Mar 23
The number of foreign residents in Japan had risen 6.6 percent at the end of 2018 from a year earlier, to reach a record high of some 2.73 million, Justice Ministry data showed on Friday.
(Japan Times)
Mar 22
The cherry blossom season officially arrived in Tokyo on Thursday after officials from the Meteorological Agency confirmed that more than five blossoms had opened on a Somei-Yoshino cherry tree at Yasukuni Shrine in Chiyoda Ward.
(Japan Times)
Mar 22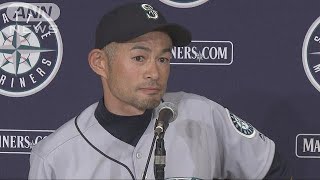 Japanese baseball legend Ichiro Suzuki of the US Major Leagues' Seattle Mariners has announced his retirement.
(NHK)
Mar 21
Cherry trees came into bloom Wednesday in the southwestern prefecture of Nagasaki, the first blooming of the "Somei Yoshino" variety in Japan this spring, according to the Japan Meteorological Agency.
(Japan Today)
Mar 21
Police on Wednesday arrested an American man on suspicion of fatally stabbing his Japanese wife at a court where they were to settle a divorce.
(Japan Today)
Mar 21
The unmanned space probe Hayabusa2 has detected small amounts of minerals containing water on the surface of the asteroid Ryugu, a Japanese research team has said.
(Japan Times)
Mar 21
Police on Thursday arrested a 14-year-old junior high school boy on suspicion of attempted murder after he stabbed a classmate at their school in Saijo, Ehime Prefecture.
(Japan Today)
Mar 20
The head of the Japanese Olympic Committee has announced he will step down when his term expires in June.
(NHK)
---