Police have arrested a 21-year-old man on suspicion of killing his 46-year-old mother and 82-year-old grandmother at their home in Matsue, Shimane Prefecture.
The suspect, Sogo Hara, was detained for questioning late Monday after being picked up on a street in Izumo city and charged with the murders of his mother Keiko, and her mother-in-law Yasue Hara, on Tuesday morning, Fuji TV reported. Police said Hara has admitted to killing the two women but has so far given no motive.
According to police, Yasue was found collapsed and bleeding at the bottom of the staircase at her home by a relative at around 9:30 a.m. Monday. Police said she had been beaten about the head by a hammer. Keiko was also found, on the second floor, bleeding from head wounds. Both women were taken to hospital where they were pronounced dead.
5日、島根県出雲市の住宅で女性2人が頭を殴られて死亡した事件で、警察は祖母を殺害した疑いで孫にあたる21歳の男を逮捕しました。 出雲市知井宮町の学生・原聡悟容疑者は5日午前、自宅で同居していた祖母の原安枝さん(82)の頭をハンマーで殴るなどして殺害した疑いが持たれています。
Mar 23
A key part of the business model for convenience stores is their round-the-clock service. But a shortage of staffers is prompting some operators to consider shrinking their business hours.
(NHK)
Mar 23
A member of a sister group of the popular all-girl band AKB48 on Friday criticized the outcome of a probe into an assault against her as "lies," as the group's management company revealed the result.
(Japan Today)
Mar 23
The number of foreign residents in Japan had risen 6.6 percent at the end of 2018 from a year earlier, to reach a record high of some 2.73 million, Justice Ministry data showed on Friday.
(Japan Times)
Mar 22
The cherry blossom season officially arrived in Tokyo on Thursday after officials from the Meteorological Agency confirmed that more than five blossoms had opened on a Somei-Yoshino cherry tree at Yasukuni Shrine in Chiyoda Ward.
(Japan Times)
Mar 22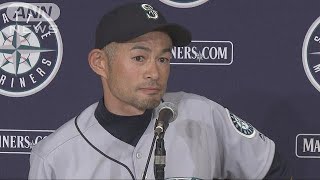 Japanese baseball legend Ichiro Suzuki of the US Major Leagues' Seattle Mariners has announced his retirement.
(NHK)
Mar 21
Cherry trees came into bloom Wednesday in the southwestern prefecture of Nagasaki, the first blooming of the "Somei Yoshino" variety in Japan this spring, according to the Japan Meteorological Agency.
(Japan Today)
Mar 21
Police on Wednesday arrested an American man on suspicion of fatally stabbing his Japanese wife at a court where they were to settle a divorce.
(Japan Today)
Mar 21
The unmanned space probe Hayabusa2 has detected small amounts of minerals containing water on the surface of the asteroid Ryugu, a Japanese research team has said.
(Japan Times)
Mar 21
Police on Thursday arrested a 14-year-old junior high school boy on suspicion of attempted murder after he stabbed a classmate at their school in Saijo, Ehime Prefecture.
(Japan Today)
Mar 20
The head of the Japanese Olympic Committee has announced he will step down when his term expires in June.
(NHK)
---