Japan Post Co. on Wednesday began transporting documents by drone in Fukushima Prefecture, the first operation of its kind in Japan, following easing of regulations to cope with labor shortages in the transport industry.
The company said it will initially use drones to carry its own documents and advertisements between two post offices in the northeastern prefecture to examine whether the unmanned aircraft can be used to carry mail. In the future, it hopes to use drones for deliveries to mountainous regions and remote islands.
It launched the operation after the government eased related regulations in September.
Prior to easing restrictions, an operator was required to keep the drone in view. But the new regulations allow for longer flights if safety can be ensured remotely through measures such as equipping the drone with a camera.
全国で初めて福島県の南相馬市と浪江町の間で郵便物を運ぶドローンの運用が始まりました。 7日午前9時すぎ、南相馬市小高区の郵便局の屋上で郵便物を運ぶ全国で初めてのドローンが飛び立ちました。ドローンは、直線距離で8キロほど離れた浪江町の郵便局まで約16分かけて飛行しました。
Mar 23
A key part of the business model for convenience stores is their round-the-clock service. But a shortage of staffers is prompting some operators to consider shrinking their business hours.
(NHK)
Mar 23
A member of a sister group of the popular all-girl band AKB48 on Friday criticized the outcome of a probe into an assault against her as "lies," as the group's management company revealed the result.
(Japan Today)
Mar 23
The number of foreign residents in Japan had risen 6.6 percent at the end of 2018 from a year earlier, to reach a record high of some 2.73 million, Justice Ministry data showed on Friday.
(Japan Times)
Mar 22
The cherry blossom season officially arrived in Tokyo on Thursday after officials from the Meteorological Agency confirmed that more than five blossoms had opened on a Somei-Yoshino cherry tree at Yasukuni Shrine in Chiyoda Ward.
(Japan Times)
Mar 22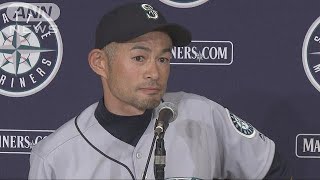 Japanese baseball legend Ichiro Suzuki of the US Major Leagues' Seattle Mariners has announced his retirement.
(NHK)
Mar 21
Cherry trees came into bloom Wednesday in the southwestern prefecture of Nagasaki, the first blooming of the "Somei Yoshino" variety in Japan this spring, according to the Japan Meteorological Agency.
(Japan Today)
Mar 21
Police on Wednesday arrested an American man on suspicion of fatally stabbing his Japanese wife at a court where they were to settle a divorce.
(Japan Today)
Mar 21
The unmanned space probe Hayabusa2 has detected small amounts of minerals containing water on the surface of the asteroid Ryugu, a Japanese research team has said.
(Japan Times)
Mar 21
Police on Thursday arrested a 14-year-old junior high school boy on suspicion of attempted murder after he stabbed a classmate at their school in Saijo, Ehime Prefecture.
(Japan Today)
Mar 20
The head of the Japanese Olympic Committee has announced he will step down when his term expires in June.
(NHK)
---