U.S. President Donald Trump's combative relationship with the media was on full display Wednesday as he shouted and ranted at reporters in a news conference that led to the suspension of a CNN reporter.
At the presser Trump's exchanges with CNN's Jim Acosta and NBC News' Peter Alexander turned bitterly personal, and he ordered a reporter from the American Urban Radio Networks to sit down when she tried to ask him a question about voter suppression, claiming she had interrupted another reporter.
Trump made several references in his news conference to how he feels mistreated by the press. Overshadowed by that ruckus was his exchange with a Japanese reporter, whose question Trump brusquely dismissed as incomprehensible due to his accent — prompting both criticism and sympathy from those watching the scene unfold.
The reporter asked, "Mr. President, can you tell us how you focus on the economic …"
Interrupting him, Trump asked the reporter where he is from. He had not identified himself before speaking, but the Nippon News Network (NNN), owned by Nippon Television, confirmed to The Japan Times on Thursday that he was a producer based in its Washington bureau.
At the reporter's mention of Japan, Trump responded curtly, "Say hello to Shinzo," referring to Prime Minister Shinzo Abe — arguably his best friend among world leaders.
Trump went on to say he was sure Abe is "happy about tariffs on his cars."
The reporter tried again, asking Trump: "How do you focus on the trade and economic issues with Japan? Will you ask Japan to do more?"
Trump, however, replied, "I really don't understand you."
When the reporter tried again, the president pounced on the only phrase he seemed to understand.
"Trade with Japan?" he said, going on to complain about how, despite Abe being a "very good friend" of his, Japan "does not treat the United States fairly on trade."
Mar 23
A key part of the business model for convenience stores is their round-the-clock service. But a shortage of staffers is prompting some operators to consider shrinking their business hours.
(NHK)
Mar 23
A member of a sister group of the popular all-girl band AKB48 on Friday criticized the outcome of a probe into an assault against her as "lies," as the group's management company revealed the result.
(Japan Today)
Mar 23
The number of foreign residents in Japan had risen 6.6 percent at the end of 2018 from a year earlier, to reach a record high of some 2.73 million, Justice Ministry data showed on Friday.
(Japan Times)
Mar 22
The cherry blossom season officially arrived in Tokyo on Thursday after officials from the Meteorological Agency confirmed that more than five blossoms had opened on a Somei-Yoshino cherry tree at Yasukuni Shrine in Chiyoda Ward.
(Japan Times)
Mar 22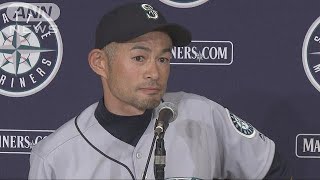 Japanese baseball legend Ichiro Suzuki of the US Major Leagues' Seattle Mariners has announced his retirement.
(NHK)
Mar 21
Cherry trees came into bloom Wednesday in the southwestern prefecture of Nagasaki, the first blooming of the "Somei Yoshino" variety in Japan this spring, according to the Japan Meteorological Agency.
(Japan Today)
Mar 21
Police on Wednesday arrested an American man on suspicion of fatally stabbing his Japanese wife at a court where they were to settle a divorce.
(Japan Today)
Mar 21
The unmanned space probe Hayabusa2 has detected small amounts of minerals containing water on the surface of the asteroid Ryugu, a Japanese research team has said.
(Japan Times)
Mar 21
Police on Thursday arrested a 14-year-old junior high school boy on suspicion of attempted murder after he stabbed a classmate at their school in Saijo, Ehime Prefecture.
(Japan Today)
Mar 20
The head of the Japanese Olympic Committee has announced he will step down when his term expires in June.
(NHK)
---