Kyoto University said Friday it has conducted the world's first transplant of induced pluripotent stem cells to treat Parkinson's disease.
Nerve cells created from the artificially derived stem cells were transplanted into the brain of a patient in his 50s in October in a treatment that researchers hope to develop into a method widely used internationally and covered by health insurance.
Parkinson's disease reduces dopamine-producing neurons in the brain and results in tremors in the hands and feet, and stiffness in the body. While there are treatments to relieve the symptoms, there is currently no cure for the disease.
In Japan, an estimated 160,000 people suffer from the progressive neurological disorder. Many patients develop symptoms in their 50s or older, and the number of patients is rising due to the aging of society.
According to the treatment plan, the nerve cells transplanted into the brain were created using iPS cells derived from people who had types of immunity that made them less prone to transplant rejections.
The nerve cells are expected to supplement dopamine-emitting neurons.
京都大学の高橋淳教授らのグループは、ヒトのiPS細胞から作った神経細胞をパーキンソン病患者の脳に移植する世界で初めての手術を行ったと発表しました。 京大医学部付属病院・高橋良輔脳神経内科長:「第1例目の移植手術を行いました。
Mar 23
A key part of the business model for convenience stores is their round-the-clock service. But a shortage of staffers is prompting some operators to consider shrinking their business hours.
(NHK)
Mar 23
A member of a sister group of the popular all-girl band AKB48 on Friday criticized the outcome of a probe into an assault against her as "lies," as the group's management company revealed the result.
(Japan Today)
Mar 23
The number of foreign residents in Japan had risen 6.6 percent at the end of 2018 from a year earlier, to reach a record high of some 2.73 million, Justice Ministry data showed on Friday.
(Japan Times)
Mar 22
The cherry blossom season officially arrived in Tokyo on Thursday after officials from the Meteorological Agency confirmed that more than five blossoms had opened on a Somei-Yoshino cherry tree at Yasukuni Shrine in Chiyoda Ward.
(Japan Times)
Mar 22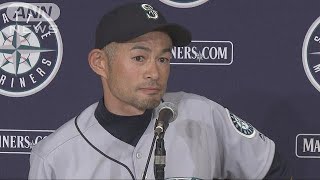 Japanese baseball legend Ichiro Suzuki of the US Major Leagues' Seattle Mariners has announced his retirement.
(NHK)
Mar 21
Cherry trees came into bloom Wednesday in the southwestern prefecture of Nagasaki, the first blooming of the "Somei Yoshino" variety in Japan this spring, according to the Japan Meteorological Agency.
(Japan Today)
Mar 21
Police on Wednesday arrested an American man on suspicion of fatally stabbing his Japanese wife at a court where they were to settle a divorce.
(Japan Today)
Mar 21
The unmanned space probe Hayabusa2 has detected small amounts of minerals containing water on the surface of the asteroid Ryugu, a Japanese research team has said.
(Japan Times)
Mar 21
Police on Thursday arrested a 14-year-old junior high school boy on suspicion of attempted murder after he stabbed a classmate at their school in Saijo, Ehime Prefecture.
(Japan Today)
Mar 20
The head of the Japanese Olympic Committee has announced he will step down when his term expires in June.
(NHK)
---