On Oct. 15, Prime Minister Shinzo Abe confirmed during an extraordinary Cabinet meeting that the government would raise the consumption tax from 8 to 10 percent next Oct. 1.
The tax hike has already been postponed twice owing to jitters over how it might affect consumption. The last consumption tax increase, in 2014, sparked a recession, and reportedly there is still a chance that Abe might postpone the hike once again if economic indicators show a similar scenario. Consequently, the prime minister said the government would do its "utmost to minimize a negative impact on the economy by implementing all sorts of policies."
According to the Mainichi Shimbun, one program under consideration would refund the 2 percent increase for products and services purchased from small- and medium-sized businesses if those purchases were made using cashless payments. Smaller businesses, including those that serve food and provide lodgings, are considered especially vulnerable to income loss after the hike goes into effect, and as the Mainichi points out, consumers who patronize such establishments and use cashless payments could end up paying even less consumption tax than they currently do, since the 2 point hike will not, for a while at least, affect food and some other items. Consumers who shop at these designated stores for food could end up paying only 6 percent in tax.
However, the refund will not be in cash. The purchaser must use a credit card, a prepaid electronic money card or a smartphone with a wallet app in order to qualify for the reduction, and instead of getting cash back they will accumulate "points" that can be used later for other purchases. Credit card companies and other collection agencies will be allowed to set the amount of reward points, so ostensibly it's possible the consumer can get even more value from the refund than just compensation for the 2 percent levy.
Jan 16
The workforce in 2040 is projected to be 20 percent smaller than in 2017 due to overall population decline if the economy sees no growth and women and the elderly continue to have difficulty landing jobs, according to government study released Tuesday.
(Japan Times)
Jan 16
Haruhiko Kuroda may rue the day he visited Nagoya. In a Nov. 5 speech to business leaders in the city, the Bank of Japan governor came close to declaring the end of deflation and the dawn of a new era.
(Japan Times)
Jan 06
More Japanese companies went under for lack of personnel last year, reflecting the growing toll of the country's ongoing labor crunch on businesses that fail to secure or keep workers.
(Nikkei)
Jan 04
Bank of Japan policymakers will weigh downgrading their inflation outlook at their meeting later this month to reflect lower crude oil prices, cuts in mobile phone fees and an expansion of free schooling.
(Nikkei)
Dec 30
The 11-member Comprehensive and Progressive Agreement for Trans-Pacific Partnership trade pact entered into force on Sunday, creating a free trade area covering more than a tenth of the global economy.
(Japan Times)
Dec 29
The benchmark Nikkei average snapped a six-year winning streak Friday to end 2018 down more than 12 percent after being pressured by selling following a spike the previous day.
(Japan Times)
Dec 27
Prime Minister Shinzo Abe on Wednesday asked business leaders to raise wages to spur consumption and mitigate the impact of next October's planned sales tax hike, the sixth consecutive year he has requested such an increase.
(Japan Times)
Dec 26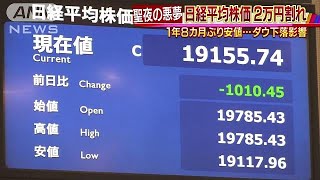 Tokyo's benchmark Nikkei Average plummeted more than 1,000 points. The index finished below the key 20,000-mark for the first time since September 2017.
(NHK)
Dec 20
The benchmark Nikkei average closed below 21,000 for the first time in nearly nine months on the Tokyo Stock Exchange Wednesday amid concerns over a slowdown in the global economy.
(Japan Times)
Dec 20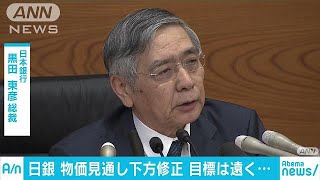 It's been the most radical cash injection in history — nearly ¥400 trillion pumped into Japan's economy over more than five years to slay deflation and kick growth into higher gear.
(Japan Times)
---