A whale shark believed to have strayed into a river in Tottori Prefecture, western Japan, has been found dead.
A resident of Kotoura Town found the 5-meter-long shark near the mouth of the Katsutagawa River on Saturday. It reportedly had scars on its tail fin.
Local officials and nearby residents tried to move the shark back to the sea, but their efforts were hindered by high waves.
The shark was found dead on the river bed.
Whale sharks mainly live in tropical waters. One got caught in a fixed net off Tottori 3 years ago.
An official at the prefecture's fishery department says the shark may have entered the Sea of Japan and traveled north with the Tsushima Current while chasing plankton.
10日に鳥取県琴浦町の河口で見つかったジンベエザメが、11日朝に死んでいるのが確認されました。 琴浦町の河口付近に迷い込んでいたジンベエザメは午前6時半ごろ、県の職員が死んでいるのを確認しました。全長5メートルほどの雄で、尾びれに傷がありました。
May 27
After a fun-filled weekend of golf, sumo, cheeseburgers and charcoal-grilled meat and vegetables, U.S. President Donald Trump and Japanese Prime Minister Shinzo Abe are set to hold formal talks Monday, with trade and tensions with North Korea topping the agenda.
(Japan Today)
May 27
Scorching heat hit Japan on Sunday. The temperature shot up to over 39 degrees Celsius in the northernmost prefecture of Hokkaido. That's a national record high for May.
(NHK)
May 27
Three people remained missing as of Sunday evening after two Japanese cargo ships collided during the early morning hours off the coast of Chiba Prefecture, the Japan Coast Guard said.
(Japan Times)
May 26
Japan's top trade negotiator with the United States has said both sides continue to differ on negotiations for a trade deal, adding that they need to work further to narrow the gap.
(NHK)
May 26
In sumo, rank-and-file wrestler Asanoyama has clinched his first tournament title.
(NHK)
May 25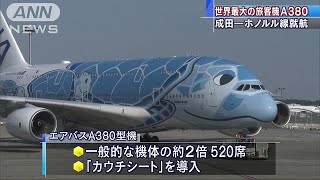 All Nippon Airways debuted flights of a double-decker Airbus A380 from Narita Airport north of Tokyo, bound for Hawaii on Friday.
(NHK)
May 24
The government will no longer use the term "lifelong singles" as a label for people who have not married by age 50, deeming the term inaccurate as Japanese are increasingly tying the knot later in life, officials said Thursday.
(Japan Today)
May 24
Many parts of Japan saw the mercury top 30 degrees Celsius on Thursday. Weather officials are warning of unseasonal high temperatures over the weekend.
(NHK)
May 24
Police in Japan are stepping up security for an upcoming visit by US President Donald Trump.
(NHK)
May 24
Japan's new supercomputer Fugaku is set to begin operations around 2021 with the country aiming to regain the title of building the world's fastest computer, replacing its current supercomputer K, government-backed research institute Riken said Thursday.
(Japan Times)
---