Canned mackerel developed by high school students in central Japan has been officially certified as space food by the Japan Aerospace Exploration Agency, or JAXA.
Wakasa Senior High School in Fukui Prefecture has been studying the development of space food for 12 years. JAXA recently added the canned mackerel to its list of 33 items of Japanese space food.
A ceremony was held at the school on Monday to commemorate the certification.
After a representative of the students received a certificate from a JAXA official, Japanese astronaut Koichi Wakata gave a talk.
Wakata said communicating with each other is important on the International Space Station, and that eating is one factor. He also said he is looking forward to seeing the canned mackerel travel to space in the future.
The students say locally cultivated fish is heavily seasoned to make up for astronauts' diminished sense of taste. They also made the canned dish sticky with kudzu starch to prevent liquid from floating away.
JAXA officials say the new space food may possibly be delivered to the space station as early as next year.
It is the first time that a food item developed by high school students has been certified by JAXA as space food.
福井県立若狭高校の生徒が作った『サバ醤油味付け缶詰』が、国際宇宙ステーションで食べる『宇宙日本食』に決定した。無重力空間では、味覚が鈍くなるため濃い味にしたり、液体が飛び散らないように葛粉で粘り気を出すなど試行錯誤を繰り返して厳しい試験をクリア。JAXA=宇宙航空研究開発機構が選ぶ『宇宙日本食』の33品目に採用された。JAXA理事で宇宙飛行士の若田光一さん(55)は高校を訪れ、生徒たちに認定証を手渡した。
May 27
After a fun-filled weekend of golf, sumo, cheeseburgers and charcoal-grilled meat and vegetables, U.S. President Donald Trump and Japanese Prime Minister Shinzo Abe are set to hold formal talks Monday, with trade and tensions with North Korea topping the agenda.
(Japan Today)
May 27
Scorching heat hit Japan on Sunday. The temperature shot up to over 39 degrees Celsius in the northernmost prefecture of Hokkaido. That's a national record high for May.
(NHK)
May 27
Three people remained missing as of Sunday evening after two Japanese cargo ships collided during the early morning hours off the coast of Chiba Prefecture, the Japan Coast Guard said.
(Japan Times)
May 26
Japan's top trade negotiator with the United States has said both sides continue to differ on negotiations for a trade deal, adding that they need to work further to narrow the gap.
(NHK)
May 26
In sumo, rank-and-file wrestler Asanoyama has clinched his first tournament title.
(NHK)
May 25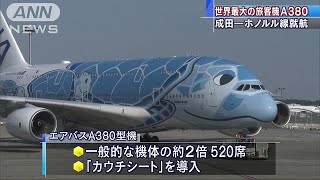 All Nippon Airways debuted flights of a double-decker Airbus A380 from Narita Airport north of Tokyo, bound for Hawaii on Friday.
(NHK)
May 24
The government will no longer use the term "lifelong singles" as a label for people who have not married by age 50, deeming the term inaccurate as Japanese are increasingly tying the knot later in life, officials said Thursday.
(Japan Today)
May 24
Many parts of Japan saw the mercury top 30 degrees Celsius on Thursday. Weather officials are warning of unseasonal high temperatures over the weekend.
(NHK)
May 24
Police in Japan are stepping up security for an upcoming visit by US President Donald Trump.
(NHK)
May 24
Japan's new supercomputer Fugaku is set to begin operations around 2021 with the country aiming to regain the title of building the world's fastest computer, replacing its current supercomputer K, government-backed research institute Riken said Thursday.
(Japan Times)
---