Health officials in Japan say nearly 2,000 people have contracted rubella, or German measles, this year.
The infections are spreading from the Tokyo metropolitan area to other parts of the country.
The National Institute of Infectious Diseases in Tokyo announced on Tuesday that 154 new cases were reported in the week up to November 4th, bringing the total to 1,884.
Most of those infected are in the Tokyo metropolitan area, but cases were also found in central, western, and south-western parts of the country.
The number of men infected is 4.5 times greater than that for cases among women. Over 80 percent of the men are aged in their 30s to 50s.
Health regulations in place from 1977 to 1995 required only that junior high school girls be vaccinated for rubella, making men who are now between the ages of 30 and 60 vulnerable to infection.
Among infected women, those in their 20s form the largest proportion.
Rubella is a viral infection that causes fever and rashes. Doctors say an infection during pregnancy could result in the baby suffering visual, hearing or heart disorders.
The authorities are calling on women to have been vaccinated twice before becoming pregnant.
They say it's also important for family members of pregnant women or anyone in frequent contact with them to get vaccinated.
風疹の流行が拡大しています。1週間の患者数は9週連続で100人を超え、今年の患者数は1884人となりました。 国立感染症研究所によりますと、4日までに報告された今年の風疹の患者数は1884人に上り、去年1年間の患者数の約20倍となりました。
May 27
After a fun-filled weekend of golf, sumo, cheeseburgers and charcoal-grilled meat and vegetables, U.S. President Donald Trump and Japanese Prime Minister Shinzo Abe are set to hold formal talks Monday, with trade and tensions with North Korea topping the agenda.
(Japan Today)
May 27
Scorching heat hit Japan on Sunday. The temperature shot up to over 39 degrees Celsius in the northernmost prefecture of Hokkaido. That's a national record high for May.
(NHK)
May 27
Three people remained missing as of Sunday evening after two Japanese cargo ships collided during the early morning hours off the coast of Chiba Prefecture, the Japan Coast Guard said.
(Japan Times)
May 26
Japan's top trade negotiator with the United States has said both sides continue to differ on negotiations for a trade deal, adding that they need to work further to narrow the gap.
(NHK)
May 26
In sumo, rank-and-file wrestler Asanoyama has clinched his first tournament title.
(NHK)
May 25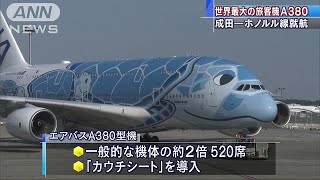 All Nippon Airways debuted flights of a double-decker Airbus A380 from Narita Airport north of Tokyo, bound for Hawaii on Friday.
(NHK)
May 24
The government will no longer use the term "lifelong singles" as a label for people who have not married by age 50, deeming the term inaccurate as Japanese are increasingly tying the knot later in life, officials said Thursday.
(Japan Today)
May 24
Many parts of Japan saw the mercury top 30 degrees Celsius on Thursday. Weather officials are warning of unseasonal high temperatures over the weekend.
(NHK)
May 24
Police in Japan are stepping up security for an upcoming visit by US President Donald Trump.
(NHK)
May 24
Japan's new supercomputer Fugaku is set to begin operations around 2021 with the country aiming to regain the title of building the world's fastest computer, replacing its current supercomputer K, government-backed research institute Riken said Thursday.
(Japan Times)
---