Japan plans to give a 5 percent reward-point rebate to consumers on some payments made through credit cards and other cashless means as a way of underpinning domestic demand after a planned tax increase next October, government officials said Thursday.
The special measure, expected to last for roughly nine months until the 2020 Tokyo Olympics, was expanded from an earlier plan to implement a 2 percent rebate program.
Fumio Kishida, policy chief of the ruling Liberal Democratic Party, told reporters that Prime Minister Shinzo Abe had informed him of the plan in a meeting at the premier's office.
The rebate will be handed out in the form of reward points rather than cash, and will not apply to payments made at large store chains, according to officials with knowledge of the plan.
The initiative is part of a series of steps the Japanese government plans to take to ensure that raising the consumption tax from the current 8 percent to 10 percent does not put the brakes on economic activity.
It is also intended to encourage greater use of cashless methods in payment as dependence on cash among Japanese consumers is relatively high.
政府は来年10月の消費税引き上げの際の景気対策として、キャッシュレス決済を利用した場合のポイント還元を検討していて、政府はこれまで増税した2%分を還元する方向で調整していたが、安倍総理は22日、2019年10月~2020年6月までに限って5%のポイント還元を検討する考えを示した
Feb 16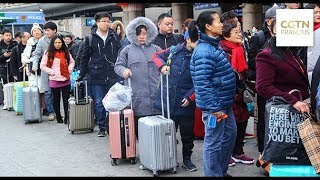 Reservations for travel overseas are surging for this year's 10-day Golden Week period, during which the Imperial succession is set to take place, according to a JTB Corp. official.
(Japan Times)
Feb 15
The Japanese government has mapped out a bill to officially recognize the Ainu ethnic minority as an indigenous people of Japan.
(NHK)
Feb 15
Bullet train ticket machines have stopped working in many parts of Japan.
(NHK)
Feb 13
Around the world, people use chocolate treats to express sweet nothings on Valentine's Day.
(BBC)
Feb 13
As spring approaches in Japan, the country's weather forecasters face one of their biggest missions of the year: predicting exactly when the famed cherry blossoms will bloom.
(straitstimes.com)
Feb 13
A new outbreak of swine fever has been confirmed on a pig farm in Aichi Prefecture, central Japan. It is the third farm in the prefecture to be hit by the highly contagious disease.
(NHK)
Feb 12
Convenience store operator Family Mart Co. on Monday announced the dismissal of a male employee after the emergence of a video showing him licking items, the latest of several similar incidents involving a food-related company in the last week, reports TV Asahi (Feb. 12).
(tokyoreporter.com)
Feb 12
A man in custody in connection with the death of a female university student whose body was found buried in a field in Kamisu City last month has also been accused in her murder, police said over the weekend, reports the Asahi Shimbun
(tokyoreporter.com)
Feb 10
The number of influenza patients per medical institution in Japan in the week through Feb. 3 dropped from the previous week in all of the nation's 47 prefectures, the health ministry announced.
(Japan Times)
Feb 09
People in Sapporo shivered through frigid conditions on Friday as the city recorded a daytime high of minus 10.1 degrees Celsius, making it the first time in 40 years that the mercury has failed to reach minus 10.
(NHK)
---