Six people were found dead on Monday at a home in Takachiho Town in Miyazaki Prefecture, southwestern Japan.
Police suspect murder as wounds were visible on some of the bodies. Most of the victims are believed to be family members. One was a small girl.
Police are looking for the missing son of the family head.
Sources close to the investigation said a car believed to be the son's was found at a parking lot in town. A man's body was found under a bridge nearby.
The identity of the body is being confirmed, and investigators are looking into whether the 2 incidents are connected.
Police received a call earlier Monday from a family member living outside the town who said no one was answering calls to the home in town.
A police officer went to the home and found a woman's body outside. Three male and 2 female bodies were found inside.
宮崎県高千穂町の住宅で26日に男女6人が死亡しているのが見つかった事件で、この家に住む42歳の次男が6人を殺害し、自殺した可能性が高いことが分かりました。
May 26
Temperatures rose across Japan on Saturday to highs usually not seen until the height of summer, causing hundreds of people to be taken to hospitals and prompting the weather agency to issue heatstroke warnings.
(Japan Today)
May 26
Japan's top trade negotiator with the United States has said both sides continue to differ on negotiations for a trade deal, adding that they need to work further to narrow the gap.
(NHK)
May 25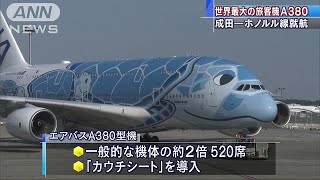 All Nippon Airways debuted flights of a double-decker Airbus A380 from Narita Airport north of Tokyo, bound for Hawaii on Friday.
(NHK)
May 24
Many parts of Japan saw the mercury top 30 degrees Celsius on Thursday. Weather officials are warning of unseasonal high temperatures over the weekend.
(NHK)
May 23
Kyoto Prefectural Police have arrested a 23-year-old male Australian national who is suspected of scrawling graffiti in dozens of locations in Kyoto City, reports Fuji News Network (May 22).
(tokyoreporter.com)
May 23
The International Olympic Committee says boxing is set to maintain its place in the 2020 Tokyo Games, but that the sport's international association should be excluded from organizing the events due to a number of problems.
(NHK)
May 23
Junnosuke Taguchi, a former member of Japanese boy band KAT-TUN, was arrested Wednesday on suspicion of possessing marijuana, the Narcotics Control Department said.
(Japan Times)
May 22
Tokyo DisneySea has begun its largest expansion project ever.
(NHK)
May 22
A Japanese government committee has decided on the route of a parade scheduled for October to celebrate the enthronement of Emperor Naruhito.
(NHK)
May 22
The Supreme Court and other legal professionals in Japan have hosted a symposium to mark the tenth anniversary of the introduction of the country's lay judge system.
(NHK)
---