A Japan Airlines pilot was jailed for 10 months on Thursday after being caught 10 times over the alcohol limit shortly before take-off from London Heathrow Airport.
First officer Katsutoshi Jitsukawa, 42, was sentenced at Isleworth Crown Court in west London.
The Japanese co-pilot was arrested at Heathrow on Oct 28 after failing a breath test 50 minutes before the Japan Airlines flight JL44 to Tokyo was due to take off with him in the cockpit.
"You are an experienced pilot but you had clearly been drinking for a long period up to a time shortly before you were due to go into that plane," said judge Philip Matthews. "Most important is the safety of all persons on board that very long-haul flight, potentially 12 hours or more. Their safety was put at risk by your inebriation and drunkenness. The prospect of you taking over control of that aircraft is too appalling to contemplate. The potential consequences for those on board was catastrophic."
The court heard that security noticed he smelled strongly of alcohol, seemed drunk and had "glazed eyes", while an officer later noticed he had "difficulty standing straight".
A breath test found he was more than 10 times over the limit with 93 milligrammes of alcohol in 100 milliliters of breath. The legal flying limit is nine mg.
日本航空の副操縦士がイギリスで乗務前に大量の酒を飲んで拘束された事件で、現地の裁判所は禁錮10カ月の実刑判決を言い渡しました。 地元警察が公開した実川克敏被告(42)が拘束された時の様子です。パイロットの制服を着たまま取り調べを受けています。
May 26
Temperatures rose across Japan on Saturday to highs usually not seen until the height of summer, causing hundreds of people to be taken to hospitals and prompting the weather agency to issue heatstroke warnings.
(Japan Today)
May 26
Japan's top trade negotiator with the United States has said both sides continue to differ on negotiations for a trade deal, adding that they need to work further to narrow the gap.
(NHK)
May 25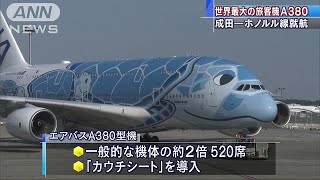 All Nippon Airways debuted flights of a double-decker Airbus A380 from Narita Airport north of Tokyo, bound for Hawaii on Friday.
(NHK)
May 24
Many parts of Japan saw the mercury top 30 degrees Celsius on Thursday. Weather officials are warning of unseasonal high temperatures over the weekend.
(NHK)
May 23
Kyoto Prefectural Police have arrested a 23-year-old male Australian national who is suspected of scrawling graffiti in dozens of locations in Kyoto City, reports Fuji News Network (May 22).
(tokyoreporter.com)
May 23
The International Olympic Committee says boxing is set to maintain its place in the 2020 Tokyo Games, but that the sport's international association should be excluded from organizing the events due to a number of problems.
(NHK)
May 23
Junnosuke Taguchi, a former member of Japanese boy band KAT-TUN, was arrested Wednesday on suspicion of possessing marijuana, the Narcotics Control Department said.
(Japan Times)
May 22
Tokyo DisneySea has begun its largest expansion project ever.
(NHK)
May 22
A Japanese government committee has decided on the route of a parade scheduled for October to celebrate the enthronement of Emperor Naruhito.
(NHK)
May 22
The Supreme Court and other legal professionals in Japan have hosted a symposium to mark the tenth anniversary of the introduction of the country's lay judge system.
(NHK)
---