The Lower House approved a bill Tuesday to designate a one-off national holiday period to celebrate next year's Imperial succession, creating a 10-day block of vacation for many from late April.
Under the envisioned legislation, May 1 — when Crown Prince Naruhito ascends to the throne — will be designated as a holiday, but it is expected that the 10-day holiday period will begin on April 27.
Oct. 22, the day of Sokuirei Seiden no Gi — a major event for the new Emperor — will also be a holiday, according to the bill.
The nation is preparing to welcome the new era that follows the April 30 abdication of Emperor Akihito, who will become the first living Japanese monarch to give up the throne in about 200 years. In the past, Imperial succession has only taken place upon the death of an emperor.
The day when the Crown Prince ascends the throne falls during Japan's Golden Week holiday period, which is centered around four national holidays. In 2019 the period will span from April 27, which falls on Saturday, to May 6, a Monday.
April 30, a Tuesday, and May 2, a Thursday, will become holidays under existing Japanese law, which stipulates that any weekday sandwiched by national holidays automatically becomes a national holiday. As a result, workers in Japan will have a 10-day vacation period starting from April 27.
Feb 16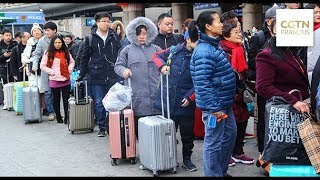 Reservations for travel overseas are surging for this year's 10-day Golden Week period, during which the Imperial succession is set to take place, according to a JTB Corp. official.
(Japan Times)
Feb 16
A fire broke out at a warehouse in Tokyo on Tuesday afternoon leaving three men dead and another man injured, while some flights at nearby Haneda airport were also disrupted by the incident.
(Kyodo)
Feb 15
Bullet train ticket machines have stopped working in many parts of Japan.
(NHK)
Feb 13
As spring approaches in Japan, the country's weather forecasters face one of their biggest missions of the year: predicting exactly when the famed cherry blossoms will bloom.
(straitstimes.com)
Feb 10
A cold snap hit Tokyo and its surrounding areas Saturday, causing cancellations of more than 100 domestic flights to and from the capital.
(Japan Times)
Feb 09
People in Sapporo shivered through frigid conditions on Friday as the city recorded a daytime high of minus 10.1 degrees Celsius, making it the first time in 40 years that the mercury has failed to reach minus 10.
(NHK)
Feb 07
Nara Park in Nara Prefecture is famous for its 1,000-plus-strong shika (native deer) population. These deer, considered to be messengers of the gods, are a national treasure and a protected species within the city's limits, due to their sacred connection to Nara's Kasuga Taisha Shrine.
(soranews24.com)
Feb 06
Star Wars, anime favourites, and tennis pro Naomi Osaka all make an appearance at this year's event.
(soranews24.com)
Feb 05
Tokyo Tower, an iconic landmark in the capital, has been illuminated in red as part of the efforts to welcome Chinese visitors to Japan during the Lunar New Year holiday.
(NHK)
Feb 03
Geisha apprentices, called "maikos," have gathered at Yasaka Shrine in Kyoto to take part in a traditional bean-throwing ritual.
(NHK)
---