Four men in their 20s were arrested Wednesday for allegedly overturning a small truck during a Halloween event in late October in the busy Shibuya district of Tokyo, police said.
No one was injured in the incident that occurred in the early hours of Oct 28, but it was one of a series of escalating pranks at the increasingly popular Halloween event in Shibuya.
The four -- Yuta Kuroki, 27, Takaaki Kawamura, 22, Shota Kojihara, 20, and Rikuo Kokubun, 20, -- have admitted to the charge of property destruction. They told the police that they did not know each other prior to the incident.
"I got too excited," Kokubun was quoted by the police as saying. Kawamura told the police he did it "in the heat of the moment after drinking."
The police believe a total of 15 people, including French and Belgian nationals, were involved in overturning the truck. They said the four arrested were particularly culpable as they were seen standing on the vehicle and damaging it.
The police plan to refer to prosecutors the remaining 11 people.
At around 1 a.m. on Oct 28, the four men allegedly flipped the truck as crowds in costumes gathered near JR Shibuya Station in central Tokyo. The driver had left the vehicle to alert police.
10月のハロウィーン直前の週末に東京・渋谷で軽トラックを横転させて壊したとして、黒木裕太容疑者(27)、糀原翔大容疑者(20)、国分陸央容疑者(20)、川村崇彰容疑者(22)が逮捕された。
Feb 15
Tokyo Metropolitan Police have apprehended a man who is suspected of slashing another man and a woman at a railway station in Bunkyo ward on Thursday, reports NHK (Feb. 14).
(tokyoreporter.com)
Feb 09
The government confirmed Friday that it will follow the procedures taken to pick the current era name of Heisei in choosing a name for the new era.
(Japan Times)
Feb 09
A developmental carriage from the next-generation bullet train has been shown to the media in western Japan.
(NHK)
Feb 09
A 20-year-old former policeman was sentenced Friday to 22 years in prison for shooting his boss to death at a police box in Hikone, Shiga Prefecture, last April.
(Japan Times)
Feb 08
A 16-year-old female high student has been arrested for extorting a man she met while engaging in papakatsu — the practice of a sugar daddy paying young girls in exchange for having dinner and dates.
(Japan Today)
Feb 08
Rental unit provider Leopalace21 said Thursday that possible construction code violations were found in an additional 1,324 of its apartment buildings, a discovery that will require the relocation of roughly 14,000 tenants.
(Nikkei)
Feb 07
The operator of one of Japan's largest sushi restaurant chains said Wednesday that video footage recently uploaded to the internet showed one of its part-time kitchen workers throwing sliced fish into a trash can and returning it to a cutting board at an outlet in Osaka Prefecture.
(Kyodo)
Feb 06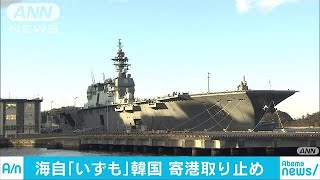 Japan's Defense Ministry has canceled a port call of a Self-Defense Forces vessel in Busan, South Korea, amid soured relations.
(NHK)
Feb 06
The mother of a 10-year-old girl who died last month at their home in Chiba Prefecture has told police that she sometimes gave the girl no food, at her husband's insistence, in the days before her daughter's death, investigative sources said Tuesday.
(Japan Times)
Feb 06
Japan's Foreign Ministry has ordered freelance journalist Kosuke Tsuneoka to hand over his passport as he attempted to travel to Yemen.
(NHK)
---