A Japanese government panel says a run of growth that began in December 2012 has now become the second-longest period of expansion in the post-war era. But that verdict comes as Japan struggles with sluggish wage growth and a chronic labor shortage.
The Cabinet Office has a group of academics and other experts who offer official judgments on the state of the economy. The members met on Thursday.
The experts say the recovery has outstripped an era of explosive growth often referred to as the "Japanese economic miracle." That period lasted from November 1965 through July 1970.
If the recovery doesn't end this month, it will tie with the longest run of growth since World War 2, spanning February 2002 to February 2008.
Many analysts say recent improvements in employment and income mean the economy will likely break the record next month.
現在の景気回復局面が高度成長期の「いざなぎ景気」を超えて戦後2番目の長さになったことが確認されました。 景気の「山」や「谷」をデータで検証する内閣府の研究会は、2012年12月から始まった景気回復局面が少なくとも2017年9月まで58カ月間、続いていることを確認しました。
Mar 20
As trade talks between Japan and the US look likely to start soon, and the price of oil drops in Japan, the value of the Yen is increasingly under threat of deflation.
(newsonjapan.com)
Mar 20
The average price of all types of land in urban areas rose last year for the first time since 1992 as the growing influx of foreign tourists rejuvenated real estate investment, the government said Tuesday.
(Japan Times)
Mar 19
The Japanese economy will likely once again be assessed as "recovering at a moderate pace" in the government's monthly report due out Wednesday, which also will note potential risks from overseas economies.
(Nikkei)
Mar 16
Japan will tighten oversight of pay for foreign employees through ordinances issued Friday, aiming to address major concerns over working conditions as the country prepares to accept more labor from abroad starting next month.
(Nikkei)
Mar 09
Since the 2008 global financial crisis, expansionary monetary policy has been the order of the day in most of the major advanced economies.
(Japan Times)
Mar 08
Chief Cabinet Secretary Yoshihide Suga denied a media report Thursday that the government is considering introducing a minimum wage for specific industrial sectors that would apply to workers nationwide, regardless of where they live.
(Japan Times)
Mar 04
The inflation outlook is looking dismal for the Bank of Japan as cheaper oil and falling mobile phone charges threaten to push price growth toward zero by mid-summer.
(Japan Times)
Mar 02
Japanese employees and companies are expected to continue shouldering a relatively high ratio of taxes to income. Officials say that on average, 42.8 percent of income will go to taxes and social welfare premiums in fiscal 2019.
(NHK)
Feb 26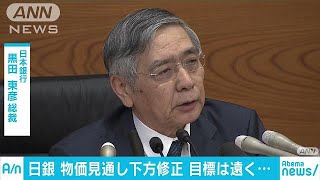 The Bank of Japan can abandon its 2 percent inflation target or suspend efforts to achieve it once the job market is tight enough because the public is better off having prices fall, not rise, an economic adviser to Prime Minister Shinzo Abe said.
(Japan Today)
Feb 21
Japan recorded its biggest trade deficit in almost five years in January, extending its run of red ink to a fourth month as exports to China tumbled.
(NHK)
---