The Japanese government plans to take measures to make regional labor markets accessible to foreign blue-collar workers to avoid them concentrating in large cities such as Tokyo when the country starts accepting them under the new visa system next year, the government's top spokesman said Thursday.
With the recent enactment of revised immigration laws, the government has compiled a draft basic policy on how to run the new visa system under which Japan will accept up to 345,150 foreign workers aged 18 or older in 14 fields, including construction, in five years from April next year.
While rural areas face more serious labor shortages, concerns remain as to whether local governments are in a position to provide sufficient language education, welfare services and housing to accept more foreign workers.
"When the revised law was passed, there was a supplementary resolution to prevent workers concentrating in Tokyo, so we would like to properly address that issue among others," Chief Cabinet Secretary Yoshihide Suga said in a news conference.
Though stopping short of giving specifics, the draft policy calls for taking "necessary measures" to meet the needs of foreign workers, according to sources familiar with the matter.
The Cabinet is expected to endorse the policy plan this month, paving the way for the government to finalize measures to meet workers' needs in their daily lives, the sources said. For instance, the government will promote multilingual consultation to give foreign workers equal access to public services.
At the same time, it will also set industry-specific rules, they said. As an example, home-visit care will be excluded from the services that foreign care-givers at nursing homes will be allowed to provide.
Mar 23
A key part of the business model for convenience stores is their round-the-clock service. But a shortage of staffers is prompting some operators to consider shrinking their business hours.
(NHK)
Mar 23
A member of a sister group of the popular all-girl band AKB48 on Friday criticized the outcome of a probe into an assault against her as "lies," as the group's management company revealed the result.
(Japan Today)
Mar 23
The number of foreign residents in Japan had risen 6.6 percent at the end of 2018 from a year earlier, to reach a record high of some 2.73 million, Justice Ministry data showed on Friday.
(Japan Times)
Mar 22
The cherry blossom season officially arrived in Tokyo on Thursday after officials from the Meteorological Agency confirmed that more than five blossoms had opened on a Somei-Yoshino cherry tree at Yasukuni Shrine in Chiyoda Ward.
(Japan Times)
Mar 22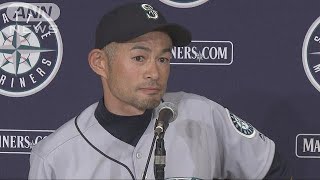 Japanese baseball legend Ichiro Suzuki of the US Major Leagues' Seattle Mariners has announced his retirement.
(NHK)
Mar 21
Cherry trees came into bloom Wednesday in the southwestern prefecture of Nagasaki, the first blooming of the "Somei Yoshino" variety in Japan this spring, according to the Japan Meteorological Agency.
(Japan Today)
Mar 21
Police on Wednesday arrested an American man on suspicion of fatally stabbing his Japanese wife at a court where they were to settle a divorce.
(Japan Today)
Mar 21
The unmanned space probe Hayabusa2 has detected small amounts of minerals containing water on the surface of the asteroid Ryugu, a Japanese research team has said.
(Japan Times)
Mar 21
Police on Thursday arrested a 14-year-old junior high school boy on suspicion of attempted murder after he stabbed a classmate at their school in Saijo, Ehime Prefecture.
(Japan Today)
Mar 20
The head of the Japanese Olympic Committee has announced he will step down when his term expires in June.
(NHK)
---