The estimated amount of babies born in Japan this year has dropped to the lowest number since comparable data became available in 1899, government figures showed Friday.
The figure for the year is estimated at 921,000, down 25,000 from a year earlier, staying below the 1 million mark for the third straight year, according to the Ministry of Health, Labor and Welfare.
Deaths during the year totaled an estimated 1.37 million, a postwar record high, with a natural population decline of 448,000, the largest ever.
The data showed the pace of population decline is picking up amid the falling birthrate, suggesting it is increasingly difficult for the government to attain its goal of raising the total fertility rate to 1.8 by the end of fiscal 2025.
今年、生まれた赤ちゃんは92万人で過去最少となりました。 厚生労働省の推計によりますと、今年、生まれた赤ちゃんは92万1000人で去年から約2万5000人減少しました。1899年に統計を取り始めて以来、過去最少となっています。
Mar 23
A key part of the business model for convenience stores is their round-the-clock service. But a shortage of staffers is prompting some operators to consider shrinking their business hours.
(NHK)
Mar 22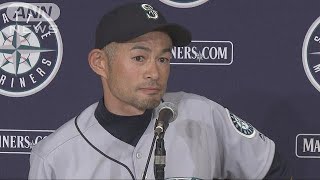 Japanese baseball legend Ichiro Suzuki of the US Major Leagues' Seattle Mariners has announced his retirement.
(NHK)
Mar 21
Cherry trees came into bloom Wednesday in the southwestern prefecture of Nagasaki, the first blooming of the "Somei Yoshino" variety in Japan this spring, according to the Japan Meteorological Agency.
(Japan Today)
Mar 21
Police on Wednesday arrested an American man on suspicion of fatally stabbing his Japanese wife at a court where they were to settle a divorce.
(Japan Today)
Mar 21
The unmanned space probe Hayabusa2 has detected small amounts of minerals containing water on the surface of the asteroid Ryugu, a Japanese research team has said.
(Japan Times)
Mar 20
The head of the Japanese Olympic Committee has announced he will step down when his term expires in June.
(NHK)
Mar 19
Japan's space probe operating on an asteroid some 340 million kilometers from Earth is preparing to study the asteroid's interior by creating an artificial impact crater.
(NHK)
Mar 19
Japanese rock singer Yuya Uchida died of pneumonia on Sunday. He was 79 years old.
(NHK)
Mar 16
Trains in and around the Japanese capital will run later into the night during the Tokyo 2020 Olympic Games to allow spectators to get home easily from events.
(NHK)
Mar 16
Chiba Prefectural Police on Friday announced the arrest of a 38-year-old man over the alleged theft of children's slippers from schools across the country, reports the Asahi Shimbun
(tokyoreporter.com)
---