Thousands stranded for hours during Japan's peak holiday travel period.
As we edge closer towards the New Year, roads and public transport systems around Japan are now working at full capacity as people travel back to their hometowns to celebrate the most important holiday of the year with their families.
With so many people travelling at the moment, any breakdown or delay can quickly become a big problem, creating huge crowds and inconveniencing thousands of people in a short period of time.
So when the driver of the Tohoku and Yamagata-bound Yamabiko with Tsubasa 177 Shinkansen bullet train was unable to release the emergency brake at Tokyo Station at 9:50 a.m. on 30 December, the breakdown resulted in massive crowds.
According to reports, the Shinkansen that broke down couldn't be moved from its position at platform 23 for over an hour-and-a-half, which meant that other bullet trains heading in and out of the station were also affected.
According to East Japan Railway Company, which operates the five affected Shinkansen lines, approximately 228,700 passengers were affected by the incident, with delays or suspensions on roughly 376 routes as a result.
Jun 18
A major renovation project has begun at Itsukushima Shrine, a UNESCO World Heritage Site, in Hiroshima Prefecture, western Japan.
(NHK)
Jun 15
Japan Airlines has become the first career in the country to take delivery of an Airbus A350 passenger jet. The plane arrived at Tokyo's Haneda Airport on Friday.
(NHK)
Jun 14
A record 3,129 people were stranded on Japanese mountains last year amid a continued boom in activities such as climbing and walking, a police report revealed Thursday.
(Japan Today)
Jun 12
The lines foreigners have to stand in to depart Japan may be eased -- just a little -- as automated gates will be introduced at airports across the country to speed up immigration checks. As a result, arrival lines might also be shortened.
(Nikkei)
Jun 09
Boarding systems are running again at Naha Airport in Okinawa Prefecture, southwestern Japan.
(NHK)
Jun 06
In a move to better compete with a rival train operator's famous "seven-minute miracle" for cleaning a bullet train between its arrival and departure, Central Japan Railway Co will shave off two minutes from its own shinkansen cleaning work, beginning next spring.
(Japan Today)
Jun 05
Music-themed restaurant doesn't want to rock the boat and instead incorporates local cultural into its design and food items.
(soranews24.com)
Jun 04
Budget carrier Jetstar Japan is expecting to cancel 70 flights in June, 2 percent of the total, due to a shortage of pilots.
(Japan Times)
Jun 03
There are all kinds of sushi -- high end to cheap, high-tech conveyor belt sushi to supermarket and convenient store sushi. There's nigiri, maki, gunkan, narezushi, temaki. It's all pretty good and each offers a unique experience, but add this one to the list.
(ONLY in JAPAN)
Jun 01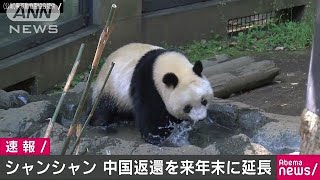 Tokyo Governor Yuriko Koike says the city's government and China have agreed to allow a popular panda, Xiang Xiang, to remain in Japan until the end of next year.
(NHK)
---