Bank of Japan policymakers will weigh downgrading their inflation outlook at their meeting later this month to reflect lower crude oil prices, cuts in mobile phone fees and an expansion of free schooling.
The Japanese central bank remains committed to its current monetary easing policy, but will take into account uncertainties in the global economy and financial markets during the two-day meeting ending Jan. 23, when the BOJ releases its latest semiannual Outlook for Economic Activity and Prices report.
The BOJ is considering lowering its fiscal 2019 forecast for consumer price growth to around 1% from last October's projection of 1.4%. Policymakers are also looking at a minor downward revision to the fiscal 2020 forecast of 1.5%.
Last October's projections exclude the effect of a consumption tax hike planned for this October. Fiscal 2019 begins April 1.
Few within the BOJ are suggesting that additional easing measures need to be announced this month, despite the recent gyrations in financial markets.
The effects of the global oil rout, cheaper mobile plans in Japan and the government's approval of free preschool education are all expected to be transitory, with limited impact on prices after fiscal 2020. BOJ policymakers even think those factors will stimulate consumer spending by leaving households with more disposable income.
Mar 20
The average price of all types of land in urban areas rose last year for the first time since 1992 as the growing influx of foreign tourists rejuvenated real estate investment, the government said Tuesday.
(Japan Times)
Mar 19
The Japanese economy will likely once again be assessed as "recovering at a moderate pace" in the government's monthly report due out Wednesday, which also will note potential risks from overseas economies.
(Nikkei)
Mar 16
Japan will tighten oversight of pay for foreign employees through ordinances issued Friday, aiming to address major concerns over working conditions as the country prepares to accept more labor from abroad starting next month.
(Nikkei)
Mar 09
Since the 2008 global financial crisis, expansionary monetary policy has been the order of the day in most of the major advanced economies.
(Japan Times)
Mar 08
Chief Cabinet Secretary Yoshihide Suga denied a media report Thursday that the government is considering introducing a minimum wage for specific industrial sectors that would apply to workers nationwide, regardless of where they live.
(Japan Times)
Mar 04
The inflation outlook is looking dismal for the Bank of Japan as cheaper oil and falling mobile phone charges threaten to push price growth toward zero by mid-summer.
(Japan Times)
Mar 02
Japanese employees and companies are expected to continue shouldering a relatively high ratio of taxes to income. Officials say that on average, 42.8 percent of income will go to taxes and social welfare premiums in fiscal 2019.
(NHK)
Feb 26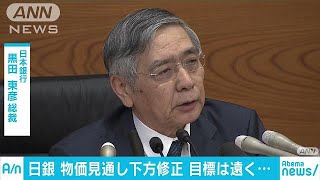 The Bank of Japan can abandon its 2 percent inflation target or suspend efforts to achieve it once the job market is tight enough because the public is better off having prices fall, not rise, an economic adviser to Prime Minister Shinzo Abe said.
(Japan Today)
Feb 21
Japan recorded its biggest trade deficit in almost five years in January, extending its run of red ink to a fourth month as exports to China tumbled.
(NHK)
Feb 20
Rising resource costs, a worsening labor shortage and a flood of easy money are pushing property prices in Tokyo to near-historic levels.
(Nikkei)
---