Heavy snow has forced cancellation of flights to and from Hokkaido, keeping holidaymakers from leaving the northern main island amid the peak of the "U-turn rush."
Airline companies say almost all flights from New Chitose Airport near Sapporo bound for Tokyo, Osaka and Fukuoka were fully booked on Saturday.
But the runway was intermittently closed while workers cleared it of snow after 20 centimeters fell for 6 hours through 11 PM.
60 incoming and 45 departing flights were cancelled.
More than 1,000 passengers booked on the cancelled flights were forced to spend the night at the airport's terminal building that was kept open temporarily.
Jun 18
A major renovation project has begun at Itsukushima Shrine, a UNESCO World Heritage Site, in Hiroshima Prefecture, western Japan.
(NHK)
Jun 15
Japan Airlines has become the first career in the country to take delivery of an Airbus A350 passenger jet. The plane arrived at Tokyo's Haneda Airport on Friday.
(NHK)
Jun 14
A record 3,129 people were stranded on Japanese mountains last year amid a continued boom in activities such as climbing and walking, a police report revealed Thursday.
(Japan Today)
Jun 12
The lines foreigners have to stand in to depart Japan may be eased -- just a little -- as automated gates will be introduced at airports across the country to speed up immigration checks. As a result, arrival lines might also be shortened.
(Nikkei)
Jun 09
Boarding systems are running again at Naha Airport in Okinawa Prefecture, southwestern Japan.
(NHK)
Jun 06
In a move to better compete with a rival train operator's famous "seven-minute miracle" for cleaning a bullet train between its arrival and departure, Central Japan Railway Co will shave off two minutes from its own shinkansen cleaning work, beginning next spring.
(Japan Today)
Jun 05
Music-themed restaurant doesn't want to rock the boat and instead incorporates local cultural into its design and food items.
(soranews24.com)
Jun 04
Budget carrier Jetstar Japan is expecting to cancel 70 flights in June, 2 percent of the total, due to a shortage of pilots.
(Japan Times)
Jun 03
There are all kinds of sushi -- high end to cheap, high-tech conveyor belt sushi to supermarket and convenient store sushi. There's nigiri, maki, gunkan, narezushi, temaki. It's all pretty good and each offers a unique experience, but add this one to the list.
(ONLY in JAPAN)
Jun 01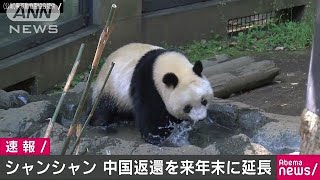 Tokyo Governor Yuriko Koike says the city's government and China have agreed to allow a popular panda, Xiang Xiang, to remain in Japan until the end of next year.
(NHK)
---