At least one in eleven people identify as lesbian, gay, bisexual or transgender, according to a survey conducted by advertising giant Dentsu Inc., while more than two-thirds of respondents were familiar with the acronym LGBT.
Of the 60,000 people aged between 20 and 59 who responded online last October, 8.9 percent self-identified as LGBT individuals, a rise of 1.3 percentage points from the previous survey conducted in 2015, the company said.
The survey also found that 68.5 percent either knew that LGBT was an acronym for sexual minorities or had heard of the term. In 2015, 37.6 percent of respondents answered similarly.
Of the LGBT respondents, 65.1 percent said they had not told anyone about their sexuality, indicating the difficulty of coming out in Japan.
LGBT(性的少数者)に関する調査で「自分がLGBTだ」と考えている人は11人に1人いるという結果が公表されました。 大手広告代理店「電通」は去年10月、全国の20歳から59歳の男女6万人を対象にLGBTに関する調査を行いました。
May 26
Temperatures rose across Japan on Saturday to highs usually not seen until the height of summer, causing hundreds of people to be taken to hospitals and prompting the weather agency to issue heatstroke warnings.
(Japan Today)
May 26
Japan's top trade negotiator with the United States has said both sides continue to differ on negotiations for a trade deal, adding that they need to work further to narrow the gap.
(NHK)
May 25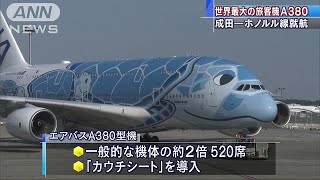 All Nippon Airways debuted flights of a double-decker Airbus A380 from Narita Airport north of Tokyo, bound for Hawaii on Friday.
(NHK)
May 24
Many parts of Japan saw the mercury top 30 degrees Celsius on Thursday. Weather officials are warning of unseasonal high temperatures over the weekend.
(NHK)
May 23
Kyoto Prefectural Police have arrested a 23-year-old male Australian national who is suspected of scrawling graffiti in dozens of locations in Kyoto City, reports Fuji News Network (May 22).
(tokyoreporter.com)
May 23
The International Olympic Committee says boxing is set to maintain its place in the 2020 Tokyo Games, but that the sport's international association should be excluded from organizing the events due to a number of problems.
(NHK)
May 23
Junnosuke Taguchi, a former member of Japanese boy band KAT-TUN, was arrested Wednesday on suspicion of possessing marijuana, the Narcotics Control Department said.
(Japan Times)
May 22
Tokyo DisneySea has begun its largest expansion project ever.
(NHK)
May 22
A Japanese government committee has decided on the route of a parade scheduled for October to celebrate the enthronement of Emperor Naruhito.
(NHK)
May 22
The Supreme Court and other legal professionals in Japan have hosted a symposium to mark the tenth anniversary of the introduction of the country's lay judge system.
(NHK)
---