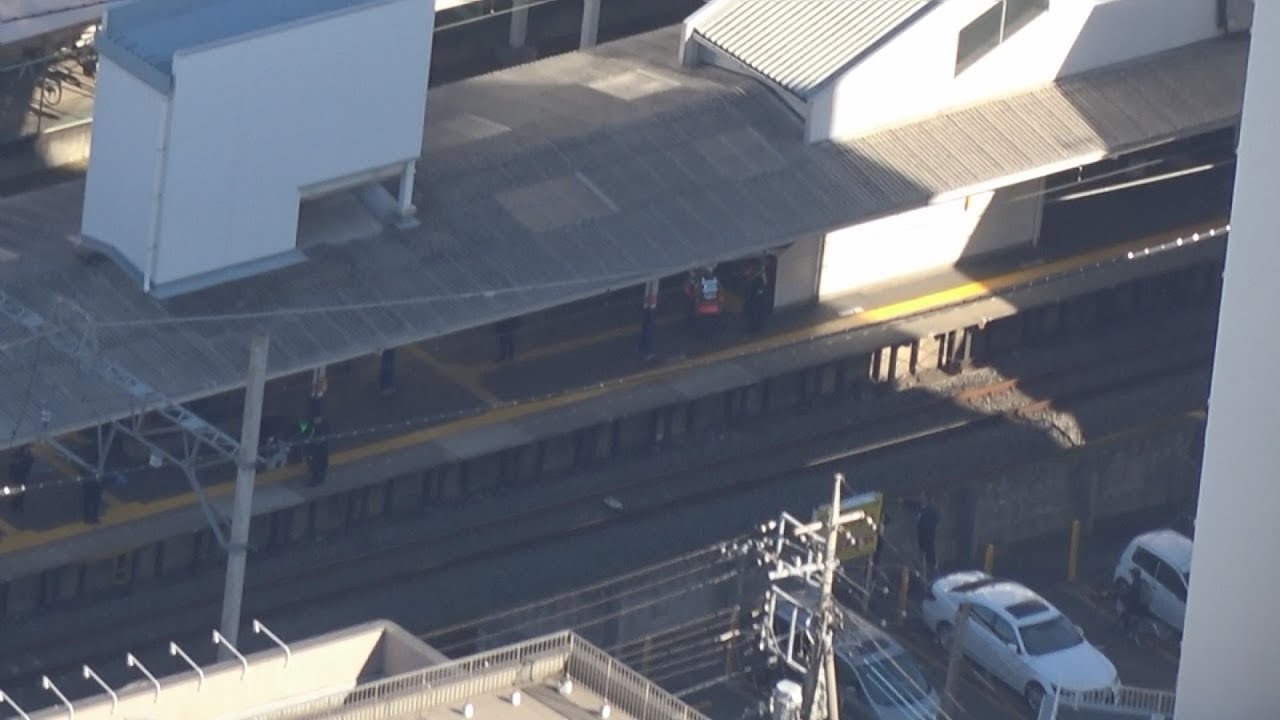 The body of a man struck by an oncoming train at a station in Fujimi City hit and injured two women on the platform, police said on Friday, reports TV Asahi.
At around 10:45 a.m., the Tobu Tojo Line train bound for Shinrin Koen Station struck the man, aged in his 80s, while he was on the platform at Mizuhodai Station. The impact sent his body hurtling across the platform, striking two women, aged in the 80s and 20s.
The man was confirmed dead at the scene. The woman in her 80s suffered a severe blow to the head. Her condition is considered serious. The other victim received a light injury to one of her hands, the Higashi Iruma Police Station said.
Prior to the incident, the man is believed to have peered down at the track from the platform. He was then struck by the oncoming train, causing the glass in the front to crack.
According to Tobu Railway Co., the incident caused 34 trains to be suspended, inconveniencing 14,000 commuters.
埼玉県の東武東上線のみずほ台駅で、電車に接触した男性が跳ね飛ばされてホームにいた女性2人に当たりました。男性は死亡し、女性2人は重軽傷を負いました。 18日午前10時45分ごろ、東武東上線のみずほ台駅のホームで、80代の男性が下りの電車に接触しました。
Feb 23
Japan's Crown Prince Naruhito marks his 59th birthday on Saturday. He will ascend to the throne on May 1st, one day after his father, Emperor Akihito, abdicates.
(NHK)
Feb 23
All Nippon Airways said Friday it was forced to delay a domestic flight earlier this week after a co-pilot failed an alcohol breath test despite new rules.
(Japan Today)
Feb 22
The Japan Aerospace Exploration Agency, or JAXA, says data from the Hayabusa2 space probe shows it had landed on the asteroid Ryugu. The spacecraft's task is to collect rock samples.
(NHK)
Feb 22
A mother and her boyfriend were arrested Thursday for allegedly injuring the woman's 8-year-old daughter by binding her wrists and forcing her into a cold bath at their home in Fukuoka Prefecture last month, police said.
(Japan Times)
Feb 22
Tokyo Metropolitan Police on Thursday arrested two former employees of a hostess club in Edogawa Ward for allegedly dumping the corpse of a man who died after excessive drinking, reports the Sankei Shimbun
(tokyoreporter.com)
Feb 21
The Tokyo High Court on Wednesday sentenced a man to 12 years in prison for abducting a teenage girl and keeping her in captivity for two years from 2014, annulling the lower court ruling that gave him a nine-year jail term.
(Japan Today)
Feb 21
Air travelers in Japan can expect some relief for their pocketbooks this spring. The country's biggest airlines say they are going to slash fuel surcharges for many of their international flights.
(NHK)
Feb 21
Japan recorded its biggest trade deficit in almost five years in January, extending its run of red ink to a fourth month as exports to China tumbled.
(NHK)
Feb 20
A Japanese court on Tuesday ordered two former classmates of a junior high school student -- who killed himself in 2011 -- to pay damages totaling about 37.5 million yen, acknowledging that their bullying led to his death.
(Japan Today)
Feb 20
Honda Motor says it plans to shut down its manufacturing plant in Swindon, southwest England, in 2021.
(NHK)
---