Japan's once-buoyant real estate market has seen a sharp pullback in foreign buying, sending property deals falling by a third in the second half of 2018.
Property transactions declined 34% on the year to a six-year low of 1.72 trillion yen ($15.78 billion) in the six months ended December, according to the Tokyo-based Urban Research Institute.
Foreign buying, which made up more than 30% of all transactions a year earlier, tumbled 90% on the year to 91.9 billion yen. Relatively low prices had made Japanese real estate an attractive asset compared with property on other markets, but that perception has changed.
"We haven't been able to buy very many properties recently," said an executive at the Japanese arm of a U.S.-based real estate fund. The number of properties on the Japanese market began to decline in the second half of 2018, and those that were on sale were too pricey, this person said.
A real estate broker reports that Tokyo waterfront condominiums that Chinese investors had bought up aggressively are now up for sale. With China's economy slowing, making the government clamp down tighter for fear of capital outflows, Chinese money appears to ebbing from once-brisk overseas real estate deals.
Japan's property deal drought is particularly noticeable at the high end.
Last year's most expensive purchase, excluding sites for development, was the roughly 150 billion yen acquisition of the Shiba Park Building in Tokyo's Minato Ward by a group of investors. This was well below the big deals seen in 2017, when China's Anbang Insurance Group bought about 200 rental condominium buildings from U.S. investment group Blackstone for roughly 260 billion yen.
Aug 10
Despite uncertainties from COVID-19, top Japanese corporations plan to invest 15.8% more in information technology in fiscal 2020 to keep up the wave of digitization across industries.
(Nikkei)
Aug 07
Official figures indicate that Japanese households may be recovering from the economic impact of COVID-19. Spending was down in June, but by a much smaller margin than the month before.
(NHK)
Aug 07
Japan's powerful business lobby, the Keidanren, is dominated by energy-intensive sectors that represent less than 10 percent of the economy, resulting in national policies that favour coal and hindering attempts to combat climate change, a new study said.
(aljazeera.com)
Aug 07
Toyota's profit plunged 74% in the last quarter as the coronavirus pandemic sank vehicle sales to about half of what the top Japanese automaker sold the previous year.
(krmg.com)
Aug 06
The average summer bonus at major Japanese companies this year dropped 2.17 percent from a year earlier to ¥901,147, a Japan Business Federation survey showed Wednesday.
(Japan Times)
Aug 06
Uber Technologies has begun to offer a food delivery subscription in Japan that replaces per-order fees, tapping into the growing demand from consumers holed up at home from the coronavirus.
(Nikkei)
Aug 05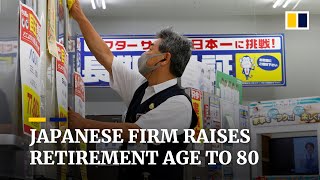 Japan's decision to offer an initial group of 87 companies subsidies totalling US$653 million to expand production at home and in Southeast Asia has sparked debate whether the world's third largest economy is trying to gradually decouple from China.
(scmp.com)
Aug 05
About 60 percent of people in the nation who developed cold-like symptoms during the first wave of the novel coronavirus pandemic, between February and May, went to work despite a request by the government for them not to do so, a recent survey has found.
(Japan Times)
Aug 05
McDonald's Holdings (Japan) has staged a dramatic comeback in the five years since a crisis triggered by food-safety scandals, breaking sales records and thriving on takeout demand in the middle of a pandemic.
(Nikkei)
Aug 04
Nippon Steel decided on Tuesday to immediately appeal a South Korean court ruling that took effect the same day that allows for the seizure of company assets as compensation for wartime labor during Japanese colonial rule.
(Nikkei)
---