Geisha apprentices, called "maikos," have gathered at Yasaka Shrine in Kyoto to take part in a traditional bean-throwing ritual.
The annual event took place on Saturday, on the eve of Setsubun. In the Japanese calendar, Setsubun is the day before the beginning of spring.
The Maiko entertainers danced.
They also prayed for happiness and good fortune for everyone, as they tossed bags of beans from the stage. Onlookers tried to catch the bags.
A woman from Osaka said that she was happy because she was able to catch a bag of beans for the first time.
The woman said she hopes to have a healthy and exciting year.
The event will be held on Sunday as well.
Feb 23
All Nippon Airways said Friday it was forced to delay a domestic flight earlier this week after a co-pilot failed an alcohol breath test despite new rules.
(Japan Today)
Feb 21
Air travelers in Japan can expect some relief for their pocketbooks this spring. The country's biggest airlines say they are going to slash fuel surcharges for many of their international flights.
(NHK)
Feb 19
Visitors to a village near Mount Fuji and its residents were rewarded with a dazzling spectacle on Monday.
(NHK)
Feb 18
People are enjoying the first signs of spring at an annual plum flower festival at the Kairakuen garden in Mito City, north of Tokyo.
(NHK)
Feb 17
The Royal Express is coming to Hokkaido, but if you can't wait, it's already running in the Tokyo area.
(soranews24.com)
Feb 16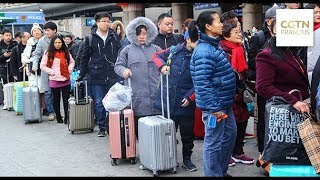 Reservations for travel overseas are surging for this year's 10-day Golden Week period, during which the Imperial succession is set to take place, according to a JTB Corp. official.
(Japan Times)
Feb 16
A fire broke out at a warehouse in Tokyo on Tuesday afternoon leaving three men dead and another man injured, while some flights at nearby Haneda airport were also disrupted by the incident.
(Kyodo)
Feb 15
Bullet train ticket machines have stopped working in many parts of Japan.
(NHK)
Feb 13
As spring approaches in Japan, the country's weather forecasters face one of their biggest missions of the year: predicting exactly when the famed cherry blossoms will bloom.
(straitstimes.com)
Feb 10
A cold snap hit Tokyo and its surrounding areas Saturday, causing cancellations of more than 100 domestic flights to and from the capital.
(Japan Times)
---