Japan's national debt has reached a new high, despite government efforts to restore fiscal health.
The Finance Ministry says at the end of last year, government debt topped 1,100 trillion yen -- about 10 trillion dollars -- for the first time.
The figure translates to about 79,000 dollars for each resident of Japan.
The bulk of the debt comes from government bonds, issued to cover ballooning social insurance costs due to the graying population. Loans and short-term securities also make up part of the debt.
More bonds are set to be issued in the fiscal year beginning April. The government's budget bill calls for about 296 billion dollars in bond issuance, aimed at covering a revenue shortfall.
Jun 01
Japan's government is asking people to continue taking preventative measures against the coronavirus after a renewed surge in cases in the southwestern city of Kitakyushu.
(NHK)
Jun 01
The government of Tokyo confirmed five COVID-19 infections Sunday — the first time in six days the daily figure came in at under 10.
(Japan Times)
Jun 01
In Italy, they sing from balconies. In the UK, they place pictures of rainbows in windows. In India, they chant "Go corona." Around the world, solidarity in the face of the coronavirus is taking many forms. In Japan, that form has three legs, a beak, scaly skin and floor-length hair. Meet Amabie, the 19th century half-fish, half-human that's resurfaced to keep people safe.
(NHK)
Jun 01
People in Japan enjoyed outside activities on Saturday and Sunday, as the country marked the first weekend since its state of emergency over the COVID-19 epidemic was fully lifted on May 25.
(Japan Times)
Jun 01
A 58-year-old member of a yakuza gang was wounded in a shooting in Okayama on Saturday afternoon.
(Japan Today)
Jun 01
A common situation when visiting or living in other countries is having to talk about where you come from. Unless you happen to be from one of the handful of major metropolises in the world, chances are people abroad will never have heard of your particular hometown.
(soranews24.com)
Jun 01
Top favorite Contrail remained on track to win the Japanese triple crown this year after blowing past the field in the 87th running of the Japanese Derby on Sunday.
(Kyodo)
Jun 01
Japan's government is set to ask all independent administrative corporations and government-designated corporations handling personal information, to consider security risks when purchasing telecommunication equipment.
(NHK)
Jun 01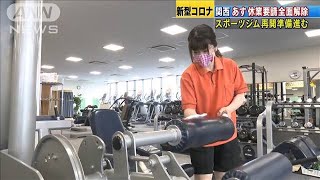 People at a sports club in Tokyo have enjoyed playing tennis and soccer on the first Sunday since the state of emergency was lifted in the Japanese capital.
(NHK)
May 31
Fourteen new coronavirus infections were reported in Tokyo on Saturday, a local official said.
(Japan Today)
---