By changing his lead attorney from a former prosecutor known as "the breaker" to a hotshot trial lawyer nicknamed "the acquitter", Carlos Ghosn plans a defense in his own image -- combative and media-savvy, experts say.
In the chaotic aftermath of Ghosn's stunning arrest last year on financial misconduct charges, the appointment of Motonari Otsuru -- an ex-head of the elite prosecution team investigating the case -- seemed a shrewd move by the auto tycoon.
Who better than a former prosecutor, who won his nickname by extracting confessions from suspects, to navigate the sometimes arcane Japanese legal system and predict what authorities would throw at them?
But the reality is that legal triumphs have been few and far between for the former Nissan chief, who has been in a Tokyo detention center for three months with little prospect of release before a trial that could take months to materialise.
Otsuru can only point to one surprise victory -- where the court refused to extend Ghosn's detention -- but he has twice failed to win bail for his client and eventually threw in the towel, resigning on Wednesday.
"From the beginning, Ghosn needed a lawyer capable of taking on the prosecutors and that is not Otsuru," said Japanese attorney Nobuo Gohara.
"Even after becoming a (defense) lawyer, he never criticized the prosecutors," Gohara told AFP.
Indeed, at his only public appearance, Otsuru surprised many Western observers with his demeanor -- cutting a rather passive and academic figure far removed from the sort of adversarial defense lawyer seen in the U.S. or Britain.
He declined to agree with foreign criticism of Ghosn's detention conditions or the Japanese legal system that allows suspects to be held almost indefinitely, appearing to side with the authorities against his own client.
Mar 23
A key part of the business model for convenience stores is their round-the-clock service. But a shortage of staffers is prompting some operators to consider shrinking their business hours.
(NHK)
Mar 23
A member of a sister group of the popular all-girl band AKB48 on Friday criticized the outcome of a probe into an assault against her as "lies," as the group's management company revealed the result.
(Japan Today)
Mar 23
The number of foreign residents in Japan had risen 6.6 percent at the end of 2018 from a year earlier, to reach a record high of some 2.73 million, Justice Ministry data showed on Friday.
(Japan Times)
Mar 22
The cherry blossom season officially arrived in Tokyo on Thursday after officials from the Meteorological Agency confirmed that more than five blossoms had opened on a Somei-Yoshino cherry tree at Yasukuni Shrine in Chiyoda Ward.
(Japan Times)
Mar 22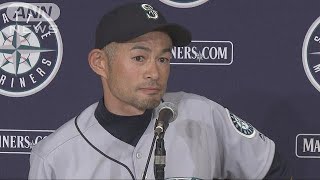 Japanese baseball legend Ichiro Suzuki of the US Major Leagues' Seattle Mariners has announced his retirement.
(NHK)
Mar 21
Cherry trees came into bloom Wednesday in the southwestern prefecture of Nagasaki, the first blooming of the "Somei Yoshino" variety in Japan this spring, according to the Japan Meteorological Agency.
(Japan Today)
Mar 21
Police on Wednesday arrested an American man on suspicion of fatally stabbing his Japanese wife at a court where they were to settle a divorce.
(Japan Today)
Mar 21
The unmanned space probe Hayabusa2 has detected small amounts of minerals containing water on the surface of the asteroid Ryugu, a Japanese research team has said.
(Japan Times)
Mar 21
Police on Thursday arrested a 14-year-old junior high school boy on suspicion of attempted murder after he stabbed a classmate at their school in Saijo, Ehime Prefecture.
(Japan Today)
Mar 20
The head of the Japanese Olympic Committee has announced he will step down when his term expires in June.
(NHK)
---