The Japan Aerospace Exploration Agency, or JAXA, says data from the Hayabusa2 space probe shows it had landed on the asteroid Ryugu. The spacecraft's task is to collect rock samples.
Hayabusa2 was launched in 2014 and arrived above asteroid Ryugu in June of last year. The asteroid is about 300 million kilometers from Earth.
The Japan Aerospace Exploration Agency, or JAXA, planned a landing last October, but postponed it because the surface of the asteroid was rockier than expected.
The agency found a flat area near the equator of the asteroid that is free of rocks larger than 60 centimeters. The scientists are aiming the probe at an extremely small landing area 6 meters in diameter.
JAXA(宇宙航空研究開発機構)の探査機「はやぶさ2」は22日の朝、小惑星「リュウグウ」に着陸します。
Mar 23
A key part of the business model for convenience stores is their round-the-clock service. But a shortage of staffers is prompting some operators to consider shrinking their business hours.
(NHK)
Mar 22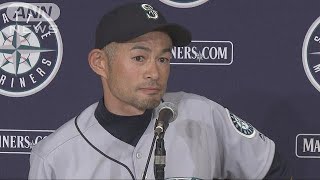 Japanese baseball legend Ichiro Suzuki of the US Major Leagues' Seattle Mariners has announced his retirement.
(NHK)
Mar 21
Cherry trees came into bloom Wednesday in the southwestern prefecture of Nagasaki, the first blooming of the "Somei Yoshino" variety in Japan this spring, according to the Japan Meteorological Agency.
(Japan Today)
Mar 21
Police on Wednesday arrested an American man on suspicion of fatally stabbing his Japanese wife at a court where they were to settle a divorce.
(Japan Today)
Mar 21
The unmanned space probe Hayabusa2 has detected small amounts of minerals containing water on the surface of the asteroid Ryugu, a Japanese research team has said.
(Japan Times)
Mar 20
The head of the Japanese Olympic Committee has announced he will step down when his term expires in June.
(NHK)
Mar 19
Japan's space probe operating on an asteroid some 340 million kilometers from Earth is preparing to study the asteroid's interior by creating an artificial impact crater.
(NHK)
Mar 19
Japanese rock singer Yuya Uchida died of pneumonia on Sunday. He was 79 years old.
(NHK)
Mar 16
Trains in and around the Japanese capital will run later into the night during the Tokyo 2020 Olympic Games to allow spectators to get home easily from events.
(NHK)
Mar 16
Chiba Prefectural Police on Friday announced the arrest of a 38-year-old man over the alleged theft of children's slippers from schools across the country, reports the Asahi Shimbun
(tokyoreporter.com)
---