Japan's Crown Prince Naruhito marks his 59th birthday on Saturday. He will ascend to the throne on May 1st, one day after his father, Emperor Akihito, abdicates.
The Crown Prince held a news conference ahead of his birthday at his residence in central Tokyo. He said that he feels solemnity when thinking of the path he will soon be embarking upon, but said he will continue to improve himself with the deeds of previous Emperors in mind.
The Crown Prince added that as the symbol of the state, he will carry out his duties as Emperor by trying to keep the Japanese people in his heart, while praying for them and feeling sadness with them when there are times of sorrow, as the current Emperor Akihito and Empress Michiko have always done.
The Crown Prince also touched on water conservation issues that he has long been involved with.
He says he will pray for the stability and continuous growth of people's everyday lives while drawing on the knowledge he has acquired by focusing on the importance of disaster prevention and damage mitigation.
The Crown Prince also referred to Crown Princess Masako who has been recuperating from an illness. He said he believes his wife will continue to make efforts each and every day to aim for a full recovery.
He also added that it might not be possible for her to quickly acquire the strength to carry out all of her duties as Empress.
Emperor Akihito's abdication will end the current "Heisei" era under Japan's traditional calendar.
皇太子さまは23日に59歳の誕生日を迎え、5月の即位にあたって天皇となる決意を示されました。
May 26
Temperatures rose across Japan on Saturday to highs usually not seen until the height of summer, causing hundreds of people to be taken to hospitals and prompting the weather agency to issue heatstroke warnings.
(Japan Today)
May 26
Japan's top trade negotiator with the United States has said both sides continue to differ on negotiations for a trade deal, adding that they need to work further to narrow the gap.
(NHK)
May 25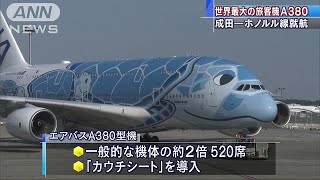 All Nippon Airways debuted flights of a double-decker Airbus A380 from Narita Airport north of Tokyo, bound for Hawaii on Friday.
(NHK)
May 24
Many parts of Japan saw the mercury top 30 degrees Celsius on Thursday. Weather officials are warning of unseasonal high temperatures over the weekend.
(NHK)
May 23
Kyoto Prefectural Police have arrested a 23-year-old male Australian national who is suspected of scrawling graffiti in dozens of locations in Kyoto City, reports Fuji News Network (May 22).
(tokyoreporter.com)
May 23
The International Olympic Committee says boxing is set to maintain its place in the 2020 Tokyo Games, but that the sport's international association should be excluded from organizing the events due to a number of problems.
(NHK)
May 23
Junnosuke Taguchi, a former member of Japanese boy band KAT-TUN, was arrested Wednesday on suspicion of possessing marijuana, the Narcotics Control Department said.
(Japan Times)
May 22
Tokyo DisneySea has begun its largest expansion project ever.
(NHK)
May 22
A Japanese government committee has decided on the route of a parade scheduled for October to celebrate the enthronement of Emperor Naruhito.
(NHK)
May 22
The Supreme Court and other legal professionals in Japan have hosted a symposium to mark the tenth anniversary of the introduction of the country's lay judge system.
(NHK)
---