Japan's Crown Prince Naruhito marks his 59th birthday on Saturday. He will ascend to the throne on May 1st, one day after his father, Emperor Akihito, abdicates.
The Crown Prince held a news conference ahead of his birthday at his residence in central Tokyo. He said that he feels solemnity when thinking of the path he will soon be embarking upon, but said he will continue to improve himself with the deeds of previous Emperors in mind.
The Crown Prince added that as the symbol of the state, he will carry out his duties as Emperor by trying to keep the Japanese people in his heart, while praying for them and feeling sadness with them when there are times of sorrow, as the current Emperor Akihito and Empress Michiko have always done.
The Crown Prince also touched on water conservation issues that he has long been involved with.
He says he will pray for the stability and continuous growth of people's everyday lives while drawing on the knowledge he has acquired by focusing on the importance of disaster prevention and damage mitigation.
The Crown Prince also referred to Crown Princess Masako who has been recuperating from an illness. He said he believes his wife will continue to make efforts each and every day to aim for a full recovery.
He also added that it might not be possible for her to quickly acquire the strength to carry out all of her duties as Empress.
Emperor Akihito's abdication will end the current "Heisei" era under Japan's traditional calendar.
皇太子さまは23日に59歳の誕生日を迎え、5月の即位にあたって天皇となる決意を示されました。
Mar 23
A key part of the business model for convenience stores is their round-the-clock service. But a shortage of staffers is prompting some operators to consider shrinking their business hours.
(NHK)
Mar 22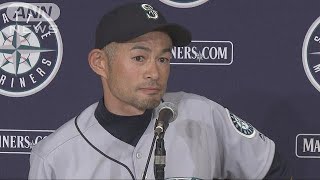 Japanese baseball legend Ichiro Suzuki of the US Major Leagues' Seattle Mariners has announced his retirement.
(NHK)
Mar 21
Cherry trees came into bloom Wednesday in the southwestern prefecture of Nagasaki, the first blooming of the "Somei Yoshino" variety in Japan this spring, according to the Japan Meteorological Agency.
(Japan Today)
Mar 21
Police on Wednesday arrested an American man on suspicion of fatally stabbing his Japanese wife at a court where they were to settle a divorce.
(Japan Today)
Mar 21
The unmanned space probe Hayabusa2 has detected small amounts of minerals containing water on the surface of the asteroid Ryugu, a Japanese research team has said.
(Japan Times)
Mar 20
The head of the Japanese Olympic Committee has announced he will step down when his term expires in June.
(NHK)
Mar 19
Japan's space probe operating on an asteroid some 340 million kilometers from Earth is preparing to study the asteroid's interior by creating an artificial impact crater.
(NHK)
Mar 19
Japanese rock singer Yuya Uchida died of pneumonia on Sunday. He was 79 years old.
(NHK)
Mar 16
Trains in and around the Japanese capital will run later into the night during the Tokyo 2020 Olympic Games to allow spectators to get home easily from events.
(NHK)
Mar 16
Chiba Prefectural Police on Friday announced the arrest of a 38-year-old man over the alleged theft of children's slippers from schools across the country, reports the Asahi Shimbun
(tokyoreporter.com)
---