Elin McCready, a transgender woman, has been married for 19 years, but registering her female identity and name has thrown her union into jeopardy because Japan doesn't recognize gay marriage.
"We've effectively broken the system," said McCready, a 45-year-old American, who has three children with her Japanese wife Midori.
"Their options are to say 'Okay, we allow your marriage', in which case they have set a precedent for same-sex marriage, or to say 'No, we don't allow your marriage,' in which case they have to unilaterally cancel our marriage without our consent."
McCready changed her gender marker and name in Texas last year as part of her transition process.
She got a new U.S. passport and had no trouble updating her residency card in Japan, where she is a permanent resident.
But changes to residency cards must be registered with the local government, and when officials there realized that McCready was married, the process ground to a halt.
"They sent it to the Tokyo government, the Tokyo government also didn't want to make a decision and sent it to the national government, and then it's been in committee ever since. More than three months," she said.
A linguistics professor at Tokyo's Aoyama Gakuin University, McCready believes she is the first person to have presented Japanese authorities with this particular dilemma.
Under Japanese law, transgender people can only change their gender markers if they meet certain conditions, including being unmarried, having no minor children, and having no reproductive capacity.
May 25
A male Canadian national employed at a day care facility in Kitakyushu City who was caught abusing a child on video has had his contract canceled by the facility, reports Fuji News Network (May 21).
(tokyoreporter.com)
May 23
Sony Corp. will tackle game addiction, its chief executive said Wednesday as the World Health Organization prepares to formally recognize it as a disorder.
(Japan Times)
May 22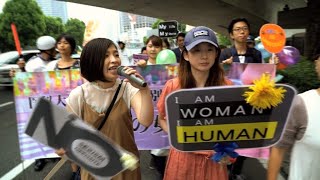 This year's pass ratio of female applicants for admission to the scandal-tainted Tokyo Medical University, which had discriminated against women for more than a decade, was slightly higher than that of male applicants, figures released by the university have shown.
(Japan Times)
May 20
In recent years, we've heard a number of disturbing accounts involving teachers hitting students at Japanese schools, and this week, another disturbing case came to light, when a foreign English-language instructor was seen slapping a two-year-old child during a class at a child daycare facility.
(Japan Today)
May 18
The Japanese school year starts in April, and one high school in Tochigi Prefecture wasted no time in scheduling a two-night class trip for its new crop of first-year students.
(soranews24.com)
May 17
The government said Thursday it plans to reduce the number of dementia patients in their 70s by 10 percent over the next decade, setting the first such numerical goal to curb growing welfare spending at a time when the Japanese population is rapidly aging.
(Japan Today)
May 11
Japan enacted legislation Friday making preschool education free as part of Prime Minister Shinzo Abe's drive to expand child care support and stem the country's falling birthrate.
(Japan Today)
May 08
A 15-year-old junior high school girl killed herself last week after leaving a note accusing a male coach at her table tennis club of verbal abuse, a local education board said Monday.
(Japan Times)
May 05
May 5 is Children's Day in Japan. But the number of children in the country has declined for 38 straight years since 1982, and is now at an all-time-low.
(NHK)
May 01
A 56-year-old man has admitted to leaving knives on the desk of Prince Hisahito at a junior high school in Tokyo, investigative sources said Tuesday.
(Japan Today)
---