Prominent U.S.-born Japanese literature scholar Donald Keene, who introduced a roster of talented writers from Japan to the world, died of cardiac arrest at a Tokyo hospital on Sunday. He was 96.
Keene obtained Japanese citizenship in 2012 after seeing the struggle faced by those hit by the March 11, 2011, earthquake and tsunami disasters that devastated coastal regions of Tohoku.
He became close friends with a number of Japanese authors and scholars, including the late novelist Yukio Mishima, Nobel Prize winner Yasunari Kawabata and writer Junichiro Tanizaki.
Considered a giant among scholars who studied Japanese literature and culture, Keene published hundreds of books in English, Japanese and several European languages, including his multivolume history of Japanese literature - written over nearly two decades.
His translations included both classic and contemporary works, including numerous noh plays and modern novels.
Born in New York in 1922, Keene became fascinated with Japanese literature at age 18 after he read an English translation of "The Tale of Genji" at Columbia University.
日本文学研究の第一人者として知られ、文化勲章を受章したドナルド・キーンさんが24日朝に心不全のため、東京都内の病院で亡くなりました。96歳でした。 ニューヨーク生まれのキーンさんは英訳された「源氏物語」から日本文学に関心を持ち、京都大学大学院に留学しました。
May 25
A male Canadian national employed at a day care facility in Kitakyushu City who was caught abusing a child on video has had his contract canceled by the facility, reports Fuji News Network (May 21).
(tokyoreporter.com)
May 23
Sony Corp. will tackle game addiction, its chief executive said Wednesday as the World Health Organization prepares to formally recognize it as a disorder.
(Japan Times)
May 22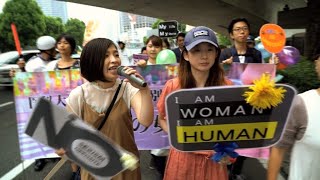 This year's pass ratio of female applicants for admission to the scandal-tainted Tokyo Medical University, which had discriminated against women for more than a decade, was slightly higher than that of male applicants, figures released by the university have shown.
(Japan Times)
May 20
In recent years, we've heard a number of disturbing accounts involving teachers hitting students at Japanese schools, and this week, another disturbing case came to light, when a foreign English-language instructor was seen slapping a two-year-old child during a class at a child daycare facility.
(Japan Today)
May 18
The Japanese school year starts in April, and one high school in Tochigi Prefecture wasted no time in scheduling a two-night class trip for its new crop of first-year students.
(soranews24.com)
May 17
The government said Thursday it plans to reduce the number of dementia patients in their 70s by 10 percent over the next decade, setting the first such numerical goal to curb growing welfare spending at a time when the Japanese population is rapidly aging.
(Japan Today)
May 11
Japan enacted legislation Friday making preschool education free as part of Prime Minister Shinzo Abe's drive to expand child care support and stem the country's falling birthrate.
(Japan Today)
May 08
A 15-year-old junior high school girl killed herself last week after leaving a note accusing a male coach at her table tennis club of verbal abuse, a local education board said Monday.
(Japan Times)
May 05
May 5 is Children's Day in Japan. But the number of children in the country has declined for 38 straight years since 1982, and is now at an all-time-low.
(NHK)
May 01
A 56-year-old man has admitted to leaving knives on the desk of Prince Hisahito at a junior high school in Tokyo, investigative sources said Tuesday.
(Japan Today)
---