Golf returned to the Olympics three years ago in Rio de Janeiro after a 112-year absence. But few play golf in Brazil, which kicked up problems from the start when a top-notch course had to be built amid protests from environmentalists and ensuing court cases and charges of corruption.
Unlike Rio, Japan has a golfing tradition. Golf is popular in the country and the Olympic venue northwest of Tokyo - the Kasumigaseki Country Club in Kawagoe City - has been around for 90 years.
Hiromi Kobayashi was the LPGA's rookie of the year in 1990 and she knows Japan faces high expectations.
"As a player I was representing myself," she said Monday, guiding reporters around a few holes with two other senior Japanese players - Tsuneyuki Nakajima and Masahiro Kuramoto. "But this is a different kind of pressure. It's on our shoulders."
Kasumigaseki is one of Japan's most exclusive clubs. Opened in 1929, it was briefly taken over after World War II by American forces. It held the Canada Cup in 1957 with Sam Snead and Jimmy Demaret playing for the United States in an event that became the World Cup a decade later.
The Olympics will be played on the East Course, which has been stretched out to 7,466 yards - including the 640-yard fifth hole. Part of the West Course will be turned into a practice ground for the Olympics.
Mar 22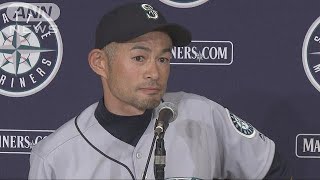 Japanese baseball legend Ichiro Suzuki of the US Major Leagues' Seattle Mariners has announced his retirement.
(NHK)
Mar 19
A rush went through the crowd as Ichiro Suzuki settled underneath the ball Shunta Tanaka hit high into air in the third inning.
(Japan Times)
Mar 17
Red Bull's Max Verstappen finished third at the Australian Grand Prix on Sunday, delivering a first Formula One podium for the team's engine manufacturer Honda since its return to the sport.
(Kyodo)
Mar 16
Trains in and around the Japanese capital will run later into the night during the Tokyo 2020 Olympic Games to allow spectators to get home easily from events.
(NHK)
Mar 13
With 500 days to go until the start of the 2020 Tokyo Olympic Games, the organizing committee has unveiled 50 pictograms of the 33 sports being held.
(NHK)
Mar 13
The Japan leg of the 2020 Tokyo Olympic torch relay will start at a soccer facility in Fukushima Prefecture that is considered a symbol of the country's reconstruction from the 2011 earthquake, tsunami and nuclear disaster, organizing committee president Yoshiro Mori said Tuesday.
(Kyodo)
Mar 12
The number of Japanese athletes at next year's Tokyo Olympics is expected to exceed 500 and could conceivably be one of the largest contingents in Olympic history, an informed source said Sunday.
(Kyodo)
Mar 09
The world's number one female tennis player Naomi Osaka has a new honor to add to her list of accomplishments, with the release on Friday of her own Barbie doll.
(NHK)
Mar 07
Japanese swimming star Rikako Ikee said Wednesday her battle against leukemia has been more difficult than she imagined.
(Japan Today)
Mar 04
A record 38,000 runners braved the rain to take part in the Tokyo Marathon on Sunday.
(NHK)
---