Maybe it's something in the gazpacho or paella, as Spain just surpassed Italy to become the world's healthiest country.
That's according to the 2019 edition of the Bloomberg Healthiest Country Index, which ranks 169 economies according to factors that contribute to overall health. Spain placed sixth in the previous gauge, published in 2017.
Four additional European nations were among the top 10 in 2019: Iceland (No. 3), Switzerland (No. 5), Sweden (No. 6) and Norway (No. 9). Japan was the healthiest Asian nation, jumping three places from the 2017 survey into fourth and replacing Singapore, which dropped to eighth. Australia and Israel rounded out the top 10 at seventh and 10th place.
The index grades nations based on variables including life expectancy while imposing penalties on risks such as tobacco use and obesity. It also takes into consideration environmental factors including access to clean water and sanitation.
Spain has the highest life expectancy at birth among European Union nations, and trails only Japan and Switzerland globally, United Nations data show. Spain by 2040 is forecast to have the highest lifespan, at almost 86 years, followed by Japan, Singapore and Switzerland, according to the University of Washington's Institute for Health Metrics and Evaluation.
South Korea improved seven spots to 17th while China, home to 1.4 billion people, rose three places to 52nd. Life expectancy in China is on track to surpass the U.S. by 2040, according to the Institute for Health Metrics and Evaluation.
May 27
After a fun-filled weekend of golf, sumo, cheeseburgers and charcoal-grilled meat and vegetables, U.S. President Donald Trump and Japanese Prime Minister Shinzo Abe are set to hold formal talks Monday, with trade and tensions with North Korea topping the agenda.
(Japan Today)
May 27
Scorching heat hit Japan on Sunday. The temperature shot up to over 39 degrees Celsius in the northernmost prefecture of Hokkaido. That's a national record high for May.
(NHK)
May 27
Three people remained missing as of Sunday evening after two Japanese cargo ships collided during the early morning hours off the coast of Chiba Prefecture, the Japan Coast Guard said.
(Japan Times)
May 26
Japan's top trade negotiator with the United States has said both sides continue to differ on negotiations for a trade deal, adding that they need to work further to narrow the gap.
(NHK)
May 26
In sumo, rank-and-file wrestler Asanoyama has clinched his first tournament title.
(NHK)
May 25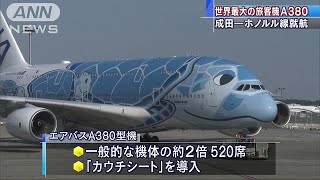 All Nippon Airways debuted flights of a double-decker Airbus A380 from Narita Airport north of Tokyo, bound for Hawaii on Friday.
(NHK)
May 24
The government will no longer use the term "lifelong singles" as a label for people who have not married by age 50, deeming the term inaccurate as Japanese are increasingly tying the knot later in life, officials said Thursday.
(Japan Today)
May 24
Many parts of Japan saw the mercury top 30 degrees Celsius on Thursday. Weather officials are warning of unseasonal high temperatures over the weekend.
(NHK)
May 24
Police in Japan are stepping up security for an upcoming visit by US President Donald Trump.
(NHK)
May 24
Japan's new supercomputer Fugaku is set to begin operations around 2021 with the country aiming to regain the title of building the world's fastest computer, replacing its current supercomputer K, government-backed research institute Riken said Thursday.
(Japan Times)
---