Maybe it's something in the gazpacho or paella, as Spain just surpassed Italy to become the world's healthiest country.
That's according to the 2019 edition of the Bloomberg Healthiest Country Index, which ranks 169 economies according to factors that contribute to overall health. Spain placed sixth in the previous gauge, published in 2017.
Four additional European nations were among the top 10 in 2019: Iceland (No. 3), Switzerland (No. 5), Sweden (No. 6) and Norway (No. 9). Japan was the healthiest Asian nation, jumping three places from the 2017 survey into fourth and replacing Singapore, which dropped to eighth. Australia and Israel rounded out the top 10 at seventh and 10th place.
The index grades nations based on variables including life expectancy while imposing penalties on risks such as tobacco use and obesity. It also takes into consideration environmental factors including access to clean water and sanitation.
Spain has the highest life expectancy at birth among European Union nations, and trails only Japan and Switzerland globally, United Nations data show. Spain by 2040 is forecast to have the highest lifespan, at almost 86 years, followed by Japan, Singapore and Switzerland, according to the University of Washington's Institute for Health Metrics and Evaluation.
South Korea improved seven spots to 17th while China, home to 1.4 billion people, rose three places to 52nd. Life expectancy in China is on track to surpass the U.S. by 2040, according to the Institute for Health Metrics and Evaluation.
Mar 23
A key part of the business model for convenience stores is their round-the-clock service. But a shortage of staffers is prompting some operators to consider shrinking their business hours.
(NHK)
Mar 23
A member of a sister group of the popular all-girl band AKB48 on Friday criticized the outcome of a probe into an assault against her as "lies," as the group's management company revealed the result.
(Japan Today)
Mar 23
The number of foreign residents in Japan had risen 6.6 percent at the end of 2018 from a year earlier, to reach a record high of some 2.73 million, Justice Ministry data showed on Friday.
(Japan Times)
Mar 22
The cherry blossom season officially arrived in Tokyo on Thursday after officials from the Meteorological Agency confirmed that more than five blossoms had opened on a Somei-Yoshino cherry tree at Yasukuni Shrine in Chiyoda Ward.
(Japan Times)
Mar 22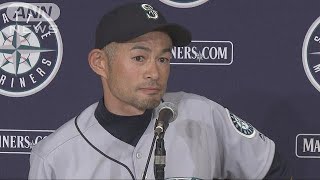 Japanese baseball legend Ichiro Suzuki of the US Major Leagues' Seattle Mariners has announced his retirement.
(NHK)
Mar 21
Cherry trees came into bloom Wednesday in the southwestern prefecture of Nagasaki, the first blooming of the "Somei Yoshino" variety in Japan this spring, according to the Japan Meteorological Agency.
(Japan Today)
Mar 21
Police on Wednesday arrested an American man on suspicion of fatally stabbing his Japanese wife at a court where they were to settle a divorce.
(Japan Today)
Mar 21
The unmanned space probe Hayabusa2 has detected small amounts of minerals containing water on the surface of the asteroid Ryugu, a Japanese research team has said.
(Japan Times)
Mar 21
Police on Thursday arrested a 14-year-old junior high school boy on suspicion of attempted murder after he stabbed a classmate at their school in Saijo, Ehime Prefecture.
(Japan Today)
Mar 20
The head of the Japanese Olympic Committee has announced he will step down when his term expires in June.
(NHK)
---