Japan's state-run kyushoku system combines flavour with fresh ingredients and high nutritional value at low cost
The list of dishes reads like a health-conscious menu at an upmarket cafe: mackerel cooked in miso, a light salad of daikon radish and sour plum, thinly sliced pickled vegetables and a selection of fresh fruit. But the "restaurant" is actually a classroom at Konan primary school in central Japan, where the pupils need only the gentlest encouragement to eat their greens.
When the Guardian visited the school in the Pacific coastal city of Fukuroi, the classroom, momentarily transformed into a lunchtime cafeteria, reverberated to a chorus of "Itadakimasu" – a polite Japanese term for "let's eat".
On the menu today is baked cod, sautéed sweet corn and bok choy, minestrone soup, a small carton of milk and, as a Friday treat, a slightly less wholesome combination of white bread with a soy-based chocolate "cream" – a challenge to spread evenly on the bread with chopsticks.
The portions are modest, but then so is the total calorie count – 667 kcal for a meal that will sustain the 11-year-old children until they get home.
'Something different every day'
Konan is not the only school in Japan producing a range of lunches – or kyushoku – that combine flavour with fresh ingredients and contain levels of iron, calcium and fibre stipulated by a government-run programme for children attending kindergarten through to the end of junior high school.
The kyushoku system was introduced in the 1950s to ensure that children did not have experience the dietary privations of the immediate postwar years. More than seven decades on, the programme is credited with contributing to Japan's impressive life expectancy, and child and adult obesity levels that are among the lowest in the OECD group of nations.
May 25
A male Canadian national employed at a day care facility in Kitakyushu City who was caught abusing a child on video has had his contract canceled by the facility, reports Fuji News Network (May 21).
(tokyoreporter.com)
May 23
Sony Corp. will tackle game addiction, its chief executive said Wednesday as the World Health Organization prepares to formally recognize it as a disorder.
(Japan Times)
May 22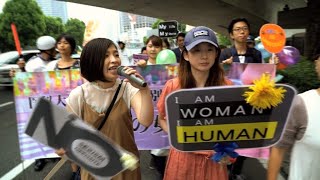 This year's pass ratio of female applicants for admission to the scandal-tainted Tokyo Medical University, which had discriminated against women for more than a decade, was slightly higher than that of male applicants, figures released by the university have shown.
(Japan Times)
May 20
In recent years, we've heard a number of disturbing accounts involving teachers hitting students at Japanese schools, and this week, another disturbing case came to light, when a foreign English-language instructor was seen slapping a two-year-old child during a class at a child daycare facility.
(Japan Today)
May 18
The Japanese school year starts in April, and one high school in Tochigi Prefecture wasted no time in scheduling a two-night class trip for its new crop of first-year students.
(soranews24.com)
May 17
The government said Thursday it plans to reduce the number of dementia patients in their 70s by 10 percent over the next decade, setting the first such numerical goal to curb growing welfare spending at a time when the Japanese population is rapidly aging.
(Japan Today)
May 11
Japan enacted legislation Friday making preschool education free as part of Prime Minister Shinzo Abe's drive to expand child care support and stem the country's falling birthrate.
(Japan Today)
May 08
A 15-year-old junior high school girl killed herself last week after leaving a note accusing a male coach at her table tennis club of verbal abuse, a local education board said Monday.
(Japan Times)
May 05
May 5 is Children's Day in Japan. But the number of children in the country has declined for 38 straight years since 1982, and is now at an all-time-low.
(NHK)
May 01
A 56-year-old man has admitted to leaving knives on the desk of Prince Hisahito at a junior high school in Tokyo, investigative sources said Tuesday.
(Japan Today)
---