A record 38,000 runners braved the rain to take part in the Tokyo Marathon on Sunday.
The race started in front of the Tokyo Metropolitan Government building in Shinjuku. The course included well-known Tokyo districts such as Asakusa and Ginza.
Organizers increased security this year by introducing electric bikes equipped with surveillance cameras.
They said they also increased both the number of security cameras and barriers to prevent vehicles from disrupting the marathon. Officials said they want to utilize these security measures in the 2020 Tokyo Olympics and Paralympics.
The winner was Ethiopia's Birhanu Legese, with a time of 2 hours, 4 minutes and 48 seconds.
Mar 22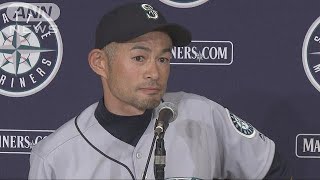 Japanese baseball legend Ichiro Suzuki of the US Major Leagues' Seattle Mariners has announced his retirement.
(NHK)
Mar 19
A rush went through the crowd as Ichiro Suzuki settled underneath the ball Shunta Tanaka hit high into air in the third inning.
(Japan Times)
Mar 17
Red Bull's Max Verstappen finished third at the Australian Grand Prix on Sunday, delivering a first Formula One podium for the team's engine manufacturer Honda since its return to the sport.
(Kyodo)
Mar 16
Trains in and around the Japanese capital will run later into the night during the Tokyo 2020 Olympic Games to allow spectators to get home easily from events.
(NHK)
Mar 13
With 500 days to go until the start of the 2020 Tokyo Olympic Games, the organizing committee has unveiled 50 pictograms of the 33 sports being held.
(NHK)
Mar 13
The Japan leg of the 2020 Tokyo Olympic torch relay will start at a soccer facility in Fukushima Prefecture that is considered a symbol of the country's reconstruction from the 2011 earthquake, tsunami and nuclear disaster, organizing committee president Yoshiro Mori said Tuesday.
(Kyodo)
Mar 12
The number of Japanese athletes at next year's Tokyo Olympics is expected to exceed 500 and could conceivably be one of the largest contingents in Olympic history, an informed source said Sunday.
(Kyodo)
Mar 09
The world's number one female tennis player Naomi Osaka has a new honor to add to her list of accomplishments, with the release on Friday of her own Barbie doll.
(NHK)
Mar 07
Japanese swimming star Rikako Ikee said Wednesday her battle against leukemia has been more difficult than she imagined.
(Japan Today)
Mar 04
A record 38,000 runners braved the rain to take part in the Tokyo Marathon on Sunday.
(NHK)
---