Japan's Imperial Household Agency has decided to allow members of the public into the Imperial Palace grounds on May 4 to celebrate the enthronement of the new Emperor.
The Agency says the event will be held three days after Crown Prince Naruhito ascends to the throne on May 1. Emperor Akihito is due to abdicate on April 30.
The Agency had initially planned to hold the celebratory event after a ritual scheduled for October 22 to proclaim the new Emperor's enthronement.
But it decided it would be more appropriate to celebrate the enthronement shortly after it takes place.
The Agency decided the new date will make it easier for people to attend the event, as May 4 falls during a 10-day holiday period.
The new Emperor, accompanied by the new Empress and other family members, is to appear on the balcony of the Imperial Palace that day. The Emperor will also address the expected crowds of well-wishers.
Emperor Akihito and Empress Michiko will not attend the event.
皇太子さまの即位から3日後に皇居で行われます。 宮内庁は、皇太子さまの即位を祝う一般参賀を5月4日に行うと発表しました。時間や回数は未定で、上皇上皇后となる今の天皇皇后両陛下は出席されません。
May 27
After a fun-filled weekend of golf, sumo, cheeseburgers and charcoal-grilled meat and vegetables, U.S. President Donald Trump and Japanese Prime Minister Shinzo Abe are set to hold formal talks Monday, with trade and tensions with North Korea topping the agenda.
(Japan Today)
May 27
Scorching heat hit Japan on Sunday. The temperature shot up to over 39 degrees Celsius in the northernmost prefecture of Hokkaido. That's a national record high for May.
(NHK)
May 27
Three people remained missing as of Sunday evening after two Japanese cargo ships collided during the early morning hours off the coast of Chiba Prefecture, the Japan Coast Guard said.
(Japan Times)
May 26
Japan's top trade negotiator with the United States has said both sides continue to differ on negotiations for a trade deal, adding that they need to work further to narrow the gap.
(NHK)
May 26
In sumo, rank-and-file wrestler Asanoyama has clinched his first tournament title.
(NHK)
May 25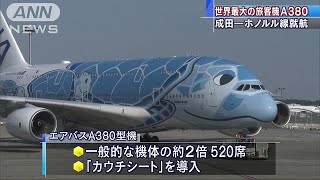 All Nippon Airways debuted flights of a double-decker Airbus A380 from Narita Airport north of Tokyo, bound for Hawaii on Friday.
(NHK)
May 24
The government will no longer use the term "lifelong singles" as a label for people who have not married by age 50, deeming the term inaccurate as Japanese are increasingly tying the knot later in life, officials said Thursday.
(Japan Today)
May 24
Many parts of Japan saw the mercury top 30 degrees Celsius on Thursday. Weather officials are warning of unseasonal high temperatures over the weekend.
(NHK)
May 24
Police in Japan are stepping up security for an upcoming visit by US President Donald Trump.
(NHK)
May 24
Japan's new supercomputer Fugaku is set to begin operations around 2021 with the country aiming to regain the title of building the world's fastest computer, replacing its current supercomputer K, government-backed research institute Riken said Thursday.
(Japan Times)
---