Japan's Imperial Household Agency has decided to allow members of the public into the Imperial Palace grounds on May 4 to celebrate the enthronement of the new Emperor.
The Agency says the event will be held three days after Crown Prince Naruhito ascends to the throne on May 1. Emperor Akihito is due to abdicate on April 30.
The Agency had initially planned to hold the celebratory event after a ritual scheduled for October 22 to proclaim the new Emperor's enthronement.
But it decided it would be more appropriate to celebrate the enthronement shortly after it takes place.
The Agency decided the new date will make it easier for people to attend the event, as May 4 falls during a 10-day holiday period.
The new Emperor, accompanied by the new Empress and other family members, is to appear on the balcony of the Imperial Palace that day. The Emperor will also address the expected crowds of well-wishers.
Emperor Akihito and Empress Michiko will not attend the event.
皇太子さまの即位から3日後に皇居で行われます。 宮内庁は、皇太子さまの即位を祝う一般参賀を5月4日に行うと発表しました。時間や回数は未定で、上皇上皇后となる今の天皇皇后両陛下は出席されません。
Mar 23
A key part of the business model for convenience stores is their round-the-clock service. But a shortage of staffers is prompting some operators to consider shrinking their business hours.
(NHK)
Mar 23
A member of a sister group of the popular all-girl band AKB48 on Friday criticized the outcome of a probe into an assault against her as "lies," as the group's management company revealed the result.
(Japan Today)
Mar 23
The number of foreign residents in Japan had risen 6.6 percent at the end of 2018 from a year earlier, to reach a record high of some 2.73 million, Justice Ministry data showed on Friday.
(Japan Times)
Mar 22
The cherry blossom season officially arrived in Tokyo on Thursday after officials from the Meteorological Agency confirmed that more than five blossoms had opened on a Somei-Yoshino cherry tree at Yasukuni Shrine in Chiyoda Ward.
(Japan Times)
Mar 22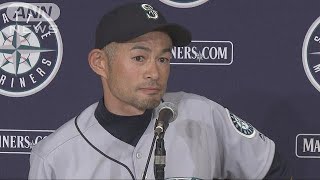 Japanese baseball legend Ichiro Suzuki of the US Major Leagues' Seattle Mariners has announced his retirement.
(NHK)
Mar 21
Cherry trees came into bloom Wednesday in the southwestern prefecture of Nagasaki, the first blooming of the "Somei Yoshino" variety in Japan this spring, according to the Japan Meteorological Agency.
(Japan Today)
Mar 21
Police on Wednesday arrested an American man on suspicion of fatally stabbing his Japanese wife at a court where they were to settle a divorce.
(Japan Today)
Mar 21
The unmanned space probe Hayabusa2 has detected small amounts of minerals containing water on the surface of the asteroid Ryugu, a Japanese research team has said.
(Japan Times)
Mar 21
Police on Thursday arrested a 14-year-old junior high school boy on suspicion of attempted murder after he stabbed a classmate at their school in Saijo, Ehime Prefecture.
(Japan Today)
Mar 20
The head of the Japanese Olympic Committee has announced he will step down when his term expires in June.
(NHK)
---