The cabinet of Prime Minister Shinzo Abe on Tuesday approved a bill to revise the broadcast law to allow public broadcaster NHK to start simultaneous online streaming of its television programs.
"We would like to meet public demand for watching (NHK) programs on their smartphones," said communications minister Masatoshi Ishida.
The bill is expected to be enacted in the current Diet session and NHK aims to start the service in fiscal 2019, ahead of the 2020 Tokyo Olympics and Paralympics.
Under the current law, NHK's simultaneous streaming is limited to disaster and live sports coverage, as expansion of the national broadcaster's services could have an impact on private TV networks.
People installing a TV receiver capable of getting NHK programs are obliged to sign a subscription contract with the broadcaster under the law. Those who contracted with NHK, formally called Japan Broadcasting Corp, will be able to watch online programs without extra fees.
Jun 01
Japan's government is asking people to continue taking preventative measures against the coronavirus after a renewed surge in cases in the southwestern city of Kitakyushu.
(NHK)
Jun 01
The government of Tokyo confirmed five COVID-19 infections Sunday — the first time in six days the daily figure came in at under 10.
(Japan Times)
Jun 01
In Italy, they sing from balconies. In the UK, they place pictures of rainbows in windows. In India, they chant "Go corona." Around the world, solidarity in the face of the coronavirus is taking many forms. In Japan, that form has three legs, a beak, scaly skin and floor-length hair. Meet Amabie, the 19th century half-fish, half-human that's resurfaced to keep people safe.
(NHK)
Jun 01
People in Japan enjoyed outside activities on Saturday and Sunday, as the country marked the first weekend since its state of emergency over the COVID-19 epidemic was fully lifted on May 25.
(Japan Times)
Jun 01
A 58-year-old member of a yakuza gang was wounded in a shooting in Okayama on Saturday afternoon.
(Japan Today)
Jun 01
A common situation when visiting or living in other countries is having to talk about where you come from. Unless you happen to be from one of the handful of major metropolises in the world, chances are people abroad will never have heard of your particular hometown.
(soranews24.com)
Jun 01
Top favorite Contrail remained on track to win the Japanese triple crown this year after blowing past the field in the 87th running of the Japanese Derby on Sunday.
(Kyodo)
Jun 01
Japan's government is set to ask all independent administrative corporations and government-designated corporations handling personal information, to consider security risks when purchasing telecommunication equipment.
(NHK)
Jun 01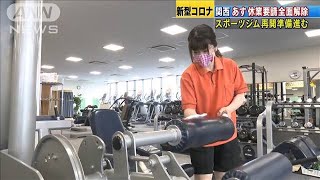 People at a sports club in Tokyo have enjoyed playing tennis and soccer on the first Sunday since the state of emergency was lifted in the Japanese capital.
(NHK)
May 31
Fourteen new coronavirus infections were reported in Tokyo on Saturday, a local official said.
(Japan Today)
---