Japan aims to set up a nationally recognized accreditation program for teachers of its native tongue, seeking to improve language education for foreign workers as the country prepares to welcome them in greater numbers.
The certification program, outlined Monday by a government committee, would start as early as fiscal 2020.
Under legislation taking effect in April, Japan will offer new residency visas that let blue-collar workers in alone and allow higher-skilled foreigners to bring family to the country.
This new path to long-term or permanent residency, meant to ease the nation's labor shortage, will increase the need for Japanese-language education to help foreigners settle into work and daily life.
The country lacks an official benchmark for Japanese-language teaching skills, and many classes outside metropolitan areas are taught by volunteers.
The proposed certification program is also meant to boost the appeal of teaching Japanese as a second language by making it a specialist role, which could lead to better pay.
The number of non-native speakers studying Japanese in Japan reached 240,000 in fiscal 2017, up 43% from fiscal 2010, but teachers of the language grew only 18% to just under 40,000 over the same period, according the Cultural Affairs Agency. Nearly 90% of these instructors were volunteers or non-full-time teachers.
Aug 22
With the Rugby World Cup kicking off Sept. 20 in Japan, communities across the country are preparing for the 500,000-plus visitors expected to attend.
(Nikkei)
Aug 22
A Shinkansen bullet train made an emergency stop after one of its doors opened while speeding through northeastern Japan.
(NHK)
Aug 22
The number of South Korean tourists visiting Japan fell last month to its lowest in nearly a year as visitors canceled travel plans amid deteriorating relations between the neighbors, Japanese government data showed on Wednesday.
(Japan Times)
Aug 22
Japan's two largest opposition parties said Tuesday they will form a joint group in both houses of the Diet in an attempt to challenge the ruling bloc's dominance.
(Japan Today)
Aug 22
Tokyo Metropolitan Police have arrested a 50-year-old man over the alleged abduction of a middle school girl in order to molest her last month, reports TBS News (Aug. 21).
(tokyoreporter.com)
Aug 22
It has always been a mystery why Summer Sonic is not held in the relative cool of June or July, but at the very height of summer, when the August sun beats down upon the festival's outdoor stages or typhoons power through the country, threatening disruption and cancellations to the event's packed schedule.
(Japan Times)
Aug 21
Korean Air says it will suspend more flights from South Korea to Japan, due to lower travel demand amid worsening bilateral ties between the two countries.
(NHK)
Aug 21
Immigration authorities revoked a record 832 visas in 2018, more than double the figure of a year earlier, Justice Ministry data showed Monday.
(Japan Times)
Aug 21
Japan's Prince Hisahito has paid a courtesy call on the King and Queen of Bhutan.
(NHK)
Aug 21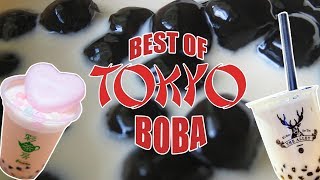 Japan's current bubble tea craze has sent tapioca imports soaring to meet the demand for the drink made with cold milk and tapioca balls.
(Asahi)
---