Nissan Motor's former chairman has been spotted visiting a park with his family, after leaving a Tokyo detention center on bail earlier this week.
Carlos Ghosn was seen outside his residence on Friday afternoon.
When a reporter asked Ghosn if he was innocent, the former chairman merely replied, "No comment."
He was accompanied by his wife and one of his daughters. The three went into a park.
Ghosn has been indicted for aggravated breach of trust and underreporting his compensation. He denies the charges.
One of his lawyers has identified himself as the person who advised Ghosn to leave the detention house in disguise.
Takashi Takano wrote on his blog that he wanted to prevent Ghosn from being followed by camera crews. But he said the effort failed.
The lawyer said the scheme was immature and hurt Ghosn's reputation.
Another lawyer said he has spoken with prosecutors and court officials about Ghosn's trial. He gave no clear indication as to when Ghosn might speak to the media.
He said, "Ghosn is willing to hold a news conference, but his condition is still not good at the moment. He wants to speak when he is feeling better. We will let you know when that is."
Meanwhile, Nissan plans to hold an extraordinary shareholders' meeting in April. At the meeting, Ghosn is expected to be dismissed as one of the directors of the board.
May 27
After a fun-filled weekend of golf, sumo, cheeseburgers and charcoal-grilled meat and vegetables, U.S. President Donald Trump and Japanese Prime Minister Shinzo Abe are set to hold formal talks Monday, with trade and tensions with North Korea topping the agenda.
(Japan Today)
May 27
Scorching heat hit Japan on Sunday. The temperature shot up to over 39 degrees Celsius in the northernmost prefecture of Hokkaido. That's a national record high for May.
(NHK)
May 27
Three people remained missing as of Sunday evening after two Japanese cargo ships collided during the early morning hours off the coast of Chiba Prefecture, the Japan Coast Guard said.
(Japan Times)
May 26
Japan's top trade negotiator with the United States has said both sides continue to differ on negotiations for a trade deal, adding that they need to work further to narrow the gap.
(NHK)
May 26
In sumo, rank-and-file wrestler Asanoyama has clinched his first tournament title.
(NHK)
May 25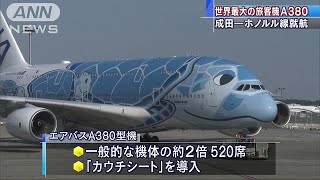 All Nippon Airways debuted flights of a double-decker Airbus A380 from Narita Airport north of Tokyo, bound for Hawaii on Friday.
(NHK)
May 24
The government will no longer use the term "lifelong singles" as a label for people who have not married by age 50, deeming the term inaccurate as Japanese are increasingly tying the knot later in life, officials said Thursday.
(Japan Today)
May 24
Many parts of Japan saw the mercury top 30 degrees Celsius on Thursday. Weather officials are warning of unseasonal high temperatures over the weekend.
(NHK)
May 24
Police in Japan are stepping up security for an upcoming visit by US President Donald Trump.
(NHK)
May 24
Japan's new supercomputer Fugaku is set to begin operations around 2021 with the country aiming to regain the title of building the world's fastest computer, replacing its current supercomputer K, government-backed research institute Riken said Thursday.
(Japan Times)
---