The Tokyo District Court on Monday rejected a request by former Nissan Motor Chairman Carlos Ghosn to attend Nissan's board meeting on Tuesday. He was released on bail last week and was seeking permission to take part in the meeting.
The court apparently decided that Ghosn's presence could put pressure on other board members and lead to destruction of evidence.
Ghosn was dismissed as Nissan chairman after his arrest in November. But he is still a member of the board.
Sources tell NHK that Nissan officials told prosecutors they were against allowing Ghosn to attend the board meeting.
Ghosn has been indicted for aggravated breach of trust and underreporting his compensation. He denies the allegations. Ghosn was released after spending more than 100 days at a Tokyo detention center.
Ghosn's lawyer, Junichiro Hironaka, told reporters his client wants to fulfill his obligations as a board member by attending the meeting.
Needing court permission to do so is one of the conditions of Ghosn's bail.
His defense team has filed an appeal against the court decision. But the court rejected the appeal.
保釈中の日産自動車の前会長、カルロス・ゴーン被告(65)が12日に行われる日産自動車の取締役会への出席を求めたが、東京地裁は証拠隠滅につながるとして認めなかった。ゴーン被告の弁護人の弘中惇一郎弁護士によると、この判断に大きく影響したのは日産の意見だったという。
May 27
Scorching heat hit Japan on Sunday. The temperature shot up to over 39 degrees Celsius in the northernmost prefecture of Hokkaido. That's a national record high for May.
(NHK)
May 27
Three people remained missing as of Sunday evening after two Japanese cargo ships collided during the early morning hours off the coast of Chiba Prefecture, the Japan Coast Guard said.
(Japan Times)
May 26
Temperatures rose across Japan on Saturday to highs usually not seen until the height of summer, causing hundreds of people to be taken to hospitals and prompting the weather agency to issue heatstroke warnings.
(Japan Today)
May 26
Japan's top trade negotiator with the United States has said both sides continue to differ on negotiations for a trade deal, adding that they need to work further to narrow the gap.
(NHK)
May 25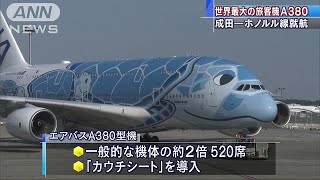 All Nippon Airways debuted flights of a double-decker Airbus A380 from Narita Airport north of Tokyo, bound for Hawaii on Friday.
(NHK)
May 24
Many parts of Japan saw the mercury top 30 degrees Celsius on Thursday. Weather officials are warning of unseasonal high temperatures over the weekend.
(NHK)
May 23
Kyoto Prefectural Police have arrested a 23-year-old male Australian national who is suspected of scrawling graffiti in dozens of locations in Kyoto City, reports Fuji News Network (May 22).
(tokyoreporter.com)
May 23
The International Olympic Committee says boxing is set to maintain its place in the 2020 Tokyo Games, but that the sport's international association should be excluded from organizing the events due to a number of problems.
(NHK)
May 23
Junnosuke Taguchi, a former member of Japanese boy band KAT-TUN, was arrested Wednesday on suspicion of possessing marijuana, the Narcotics Control Department said.
(Japan Times)
May 22
Tokyo DisneySea has begun its largest expansion project ever.
(NHK)
---