The Tokyo District Court on Monday rejected a request by former Nissan Motor Chairman Carlos Ghosn to attend Nissan's board meeting on Tuesday. He was released on bail last week and was seeking permission to take part in the meeting.
The court apparently decided that Ghosn's presence could put pressure on other board members and lead to destruction of evidence.
Ghosn was dismissed as Nissan chairman after his arrest in November. But he is still a member of the board.
Sources tell NHK that Nissan officials told prosecutors they were against allowing Ghosn to attend the board meeting.
Ghosn has been indicted for aggravated breach of trust and underreporting his compensation. He denies the allegations. Ghosn was released after spending more than 100 days at a Tokyo detention center.
Ghosn's lawyer, Junichiro Hironaka, told reporters his client wants to fulfill his obligations as a board member by attending the meeting.
Needing court permission to do so is one of the conditions of Ghosn's bail.
His defense team has filed an appeal against the court decision. But the court rejected the appeal.
保釈中の日産自動車の前会長、カルロス・ゴーン被告(65)が12日に行われる日産自動車の取締役会への出席を求めたが、東京地裁は証拠隠滅につながるとして認めなかった。ゴーン被告の弁護人の弘中惇一郎弁護士によると、この判断に大きく影響したのは日産の意見だったという。
Mar 23
A key part of the business model for convenience stores is their round-the-clock service. But a shortage of staffers is prompting some operators to consider shrinking their business hours.
(NHK)
Mar 22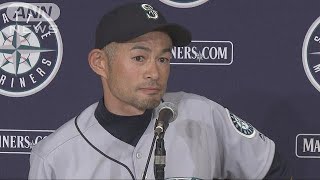 Japanese baseball legend Ichiro Suzuki of the US Major Leagues' Seattle Mariners has announced his retirement.
(NHK)
Mar 21
Cherry trees came into bloom Wednesday in the southwestern prefecture of Nagasaki, the first blooming of the "Somei Yoshino" variety in Japan this spring, according to the Japan Meteorological Agency.
(Japan Today)
Mar 21
Police on Wednesday arrested an American man on suspicion of fatally stabbing his Japanese wife at a court where they were to settle a divorce.
(Japan Today)
Mar 21
The unmanned space probe Hayabusa2 has detected small amounts of minerals containing water on the surface of the asteroid Ryugu, a Japanese research team has said.
(Japan Times)
Mar 20
The head of the Japanese Olympic Committee has announced he will step down when his term expires in June.
(NHK)
Mar 19
Japan's space probe operating on an asteroid some 340 million kilometers from Earth is preparing to study the asteroid's interior by creating an artificial impact crater.
(NHK)
Mar 19
Japanese rock singer Yuya Uchida died of pneumonia on Sunday. He was 79 years old.
(NHK)
Mar 16
Trains in and around the Japanese capital will run later into the night during the Tokyo 2020 Olympic Games to allow spectators to get home easily from events.
(NHK)
Mar 16
Chiba Prefectural Police on Friday announced the arrest of a 38-year-old man over the alleged theft of children's slippers from schools across the country, reports the Asahi Shimbun
(tokyoreporter.com)
---