Three former executives of Tokyo Electric Power Company have pleaded not guilty to professional negligence in connection with the 2011 nuclear crisis at the Fukushima Daiichi power plant.
Former TEPCO Chairman Tsunehisa Katsumata and two former vice presidents were indicted on charges of professional negligence resulting in death and injury. All three have denied the charges.
Lawyers for the executives gave their closing argument at the Tokyo District Court on Tuesday.
The lawyers referred to an in-house report that management received three years before the accident. It said massive tsunami waves could hit Fukushima Daiichi, according to calculations based on the government's long-term assessment.
They said the basis for the calculations was unreliable and that it was standard procedure to hand the matter over to the Japan Society of Civil Engineers for further consideration. The defense team denied the executives put off countermeasures, adding that it was impossible for them to foresee and prevent the accident.
The trial, which began in June 2017, ended on Tuesday. The court is expected to deliver its sentence on September 19.
強制起訴された東京電力の旧経営陣の裁判の最終弁論で弁護側が改めて無罪を主張し、裁判は結審しました。判決は9月19日に言い渡される予定です。
May 27
Scorching heat hit Japan on Sunday. The temperature shot up to over 39 degrees Celsius in the northernmost prefecture of Hokkaido. That's a national record high for May.
(NHK)
May 27
Three people remained missing as of Sunday evening after two Japanese cargo ships collided during the early morning hours off the coast of Chiba Prefecture, the Japan Coast Guard said.
(Japan Times)
May 26
Temperatures rose across Japan on Saturday to highs usually not seen until the height of summer, causing hundreds of people to be taken to hospitals and prompting the weather agency to issue heatstroke warnings.
(Japan Today)
May 26
Japan's top trade negotiator with the United States has said both sides continue to differ on negotiations for a trade deal, adding that they need to work further to narrow the gap.
(NHK)
May 25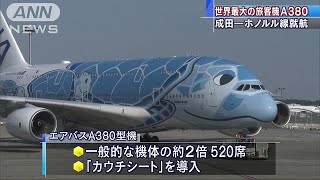 All Nippon Airways debuted flights of a double-decker Airbus A380 from Narita Airport north of Tokyo, bound for Hawaii on Friday.
(NHK)
May 24
Many parts of Japan saw the mercury top 30 degrees Celsius on Thursday. Weather officials are warning of unseasonal high temperatures over the weekend.
(NHK)
May 23
Kyoto Prefectural Police have arrested a 23-year-old male Australian national who is suspected of scrawling graffiti in dozens of locations in Kyoto City, reports Fuji News Network (May 22).
(tokyoreporter.com)
May 23
The International Olympic Committee says boxing is set to maintain its place in the 2020 Tokyo Games, but that the sport's international association should be excluded from organizing the events due to a number of problems.
(NHK)
May 23
Junnosuke Taguchi, a former member of Japanese boy band KAT-TUN, was arrested Wednesday on suspicion of possessing marijuana, the Narcotics Control Department said.
(Japan Times)
May 22
Tokyo DisneySea has begun its largest expansion project ever.
(NHK)
---