The landscape of Japan's digital map industry is shifting as Google seeks to cash in on a treasure trove of next-generation services requiring maps by increasing its independence from local partner Zenrin.
Users here have complained about Google Maps' worsening quality of late, saying it sometimes displays dangerous back streets as major thoroughfares and private roads as public. Google says it is working to quickly fix the problem.
The issues appear linked to Google's decision to slash the amount of mapping data it receives from Zenrin, whose name has vanished from Google Maps' copyright notice. The company has relied on Zenrin for most of its detailed data since it began offering its map service here in 2005.
Following Google's move, U.S. mapmaker Mapbox said in a March 19 blog post that it will receive data from Zenrin.
Zenrin is one of Japan's biggest mapmakers, with roughly 1,000 surveyors. Using cars with 360-degree cameras and laser measuring devices, it updates its urban maps annually and every two to five years for more remote areas. It can also distinguish new streets and name changes as well as public and private roads.
Japan's map market demands precision. Its cities are densely packed with buildings and narrow streets that are shared by pedestrians and motorists alike. Inaccurate maps not only keep travelers from arriving at their destinations, but also expose them to danger.
Google likely sacrificed some quality now to increase Google Maps' availability to developers later. The company said March 6 that "Google Maps' next step in Japan will be to provide everyone with more comprehensive and flexible maps."
May 26
Temperatures rose across Japan on Saturday to highs usually not seen until the height of summer, causing hundreds of people to be taken to hospitals and prompting the weather agency to issue heatstroke warnings.
(Japan Today)
May 26
Japan's top trade negotiator with the United States has said both sides continue to differ on negotiations for a trade deal, adding that they need to work further to narrow the gap.
(NHK)
May 26
US President Donald Trump is scheduled to spend a full day with Prime Minister Shinzo Abe on Sunday, ahead of their summit on Monday.
(NHK)
May 26
In sumo, rank-and-file wrestler Asanoyama has clinched his first tournament title.
(NHK)
May 25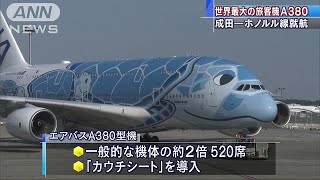 All Nippon Airways debuted flights of a double-decker Airbus A380 from Narita Airport north of Tokyo, bound for Hawaii on Friday.
(NHK)
May 24
The government will no longer use the term "lifelong singles" as a label for people who have not married by age 50, deeming the term inaccurate as Japanese are increasingly tying the knot later in life, officials said Thursday.
(Japan Today)
May 24
Many parts of Japan saw the mercury top 30 degrees Celsius on Thursday. Weather officials are warning of unseasonal high temperatures over the weekend.
(NHK)
May 24
Police in Japan are stepping up security for an upcoming visit by US President Donald Trump.
(NHK)
May 24
Japan's new supercomputer Fugaku is set to begin operations around 2021 with the country aiming to regain the title of building the world's fastest computer, replacing its current supercomputer K, government-backed research institute Riken said Thursday.
(Japan Times)
May 23
Kyoto Prefectural Police have arrested a 23-year-old male Australian national who is suspected of scrawling graffiti in dozens of locations in Kyoto City, reports Fuji News Network (May 22).
(tokyoreporter.com)
---