The Japan Meteorological Agency says the average density of carbon dioxide in the air over the country hit a record-high level last year at all fixed-observation points.
The agency has been monitoring CO2 density in the atmosphere at three sites in Japan: Ofunato City in northeastern Honshu, westernmost Yonaguni Island in Okinawa Prefecture, and easternmost Minamitorishima island in the Pacific.
The average density of carbon dioxide in Ofunato last year was 412 parts per million. It was followed by 411.7 ppm in Yonaguni and 409.4 ppm in Minamitorishima.
Scientists at the UN Intergovernmental Panel on Climate Change project that a global average CO2 level of about 420 ppm is the upper limit to contain a rise in temperature to below 2 degrees Celsius by the end of this century.
But the three monitoring sites in Japan have been setting new high records every year. If this trend continues, the CO2 level of over 420 ppm could be reached in about five years.
Agency officials say consumption of fossil fuels is likely to be driving the steady rise in the average density of CO2 in Japan. They are calling for further promotion of emissions cuts.
May 26
Temperatures rose across Japan on Saturday to highs usually not seen until the height of summer, causing hundreds of people to be taken to hospitals and prompting the weather agency to issue heatstroke warnings.
(Japan Today)
May 26
Japan's top trade negotiator with the United States has said both sides continue to differ on negotiations for a trade deal, adding that they need to work further to narrow the gap.
(NHK)
May 26
US President Donald Trump is scheduled to spend a full day with Prime Minister Shinzo Abe on Sunday, ahead of their summit on Monday.
(NHK)
May 26
In sumo, rank-and-file wrestler Asanoyama has clinched his first tournament title.
(NHK)
May 25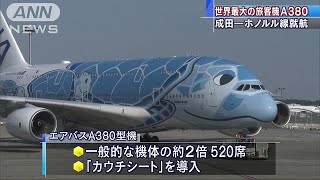 All Nippon Airways debuted flights of a double-decker Airbus A380 from Narita Airport north of Tokyo, bound for Hawaii on Friday.
(NHK)
May 24
The government will no longer use the term "lifelong singles" as a label for people who have not married by age 50, deeming the term inaccurate as Japanese are increasingly tying the knot later in life, officials said Thursday.
(Japan Today)
May 24
Many parts of Japan saw the mercury top 30 degrees Celsius on Thursday. Weather officials are warning of unseasonal high temperatures over the weekend.
(NHK)
May 24
Police in Japan are stepping up security for an upcoming visit by US President Donald Trump.
(NHK)
May 24
Japan's new supercomputer Fugaku is set to begin operations around 2021 with the country aiming to regain the title of building the world's fastest computer, replacing its current supercomputer K, government-backed research institute Riken said Thursday.
(Japan Times)
May 23
Kyoto Prefectural Police have arrested a 23-year-old male Australian national who is suspected of scrawling graffiti in dozens of locations in Kyoto City, reports Fuji News Network (May 22).
(tokyoreporter.com)
---